The presentor has activated the presentor mode. Would you like to follow?
Follow presentor
You are following the presentor.
Stop following presentor
EXPLORING REALITIES: Animated Documentaries

73 min + Q&A / Fri. 12.3., 19:00 / online available for 48 hours
co-hosted by Brunnenpassage

These animated documentaries depict the unspeakable and allow us to access worlds of imagination, memory and dreams, linked to lived realities. Portraits, interviews and stories reflect upon, question and visually reframe (inter)personal and socio-political narratives as well as struggles against struc- tural violence and inequality.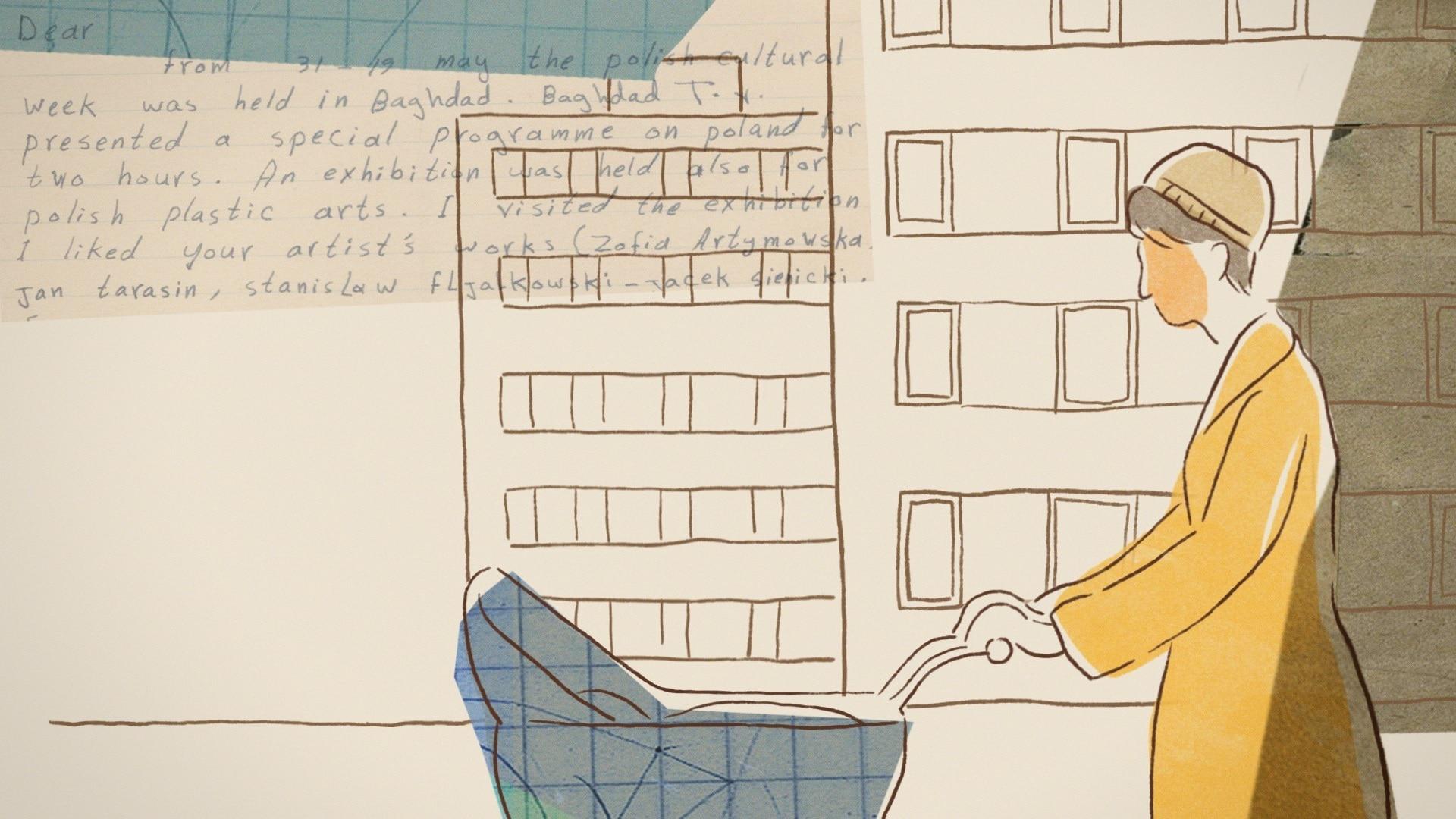 WE HAVE ONE HEART
Katarzyna Warzecha, 2020, Poland, 11 min

After his mother's death, Adam comes across letters that his parents exchanged years ago. An opportunity for him to find out more about his father, whom he never knew. The juxtaposition of animated drawings and archival material takes us back forty years, uncovering an extraordinary family secret.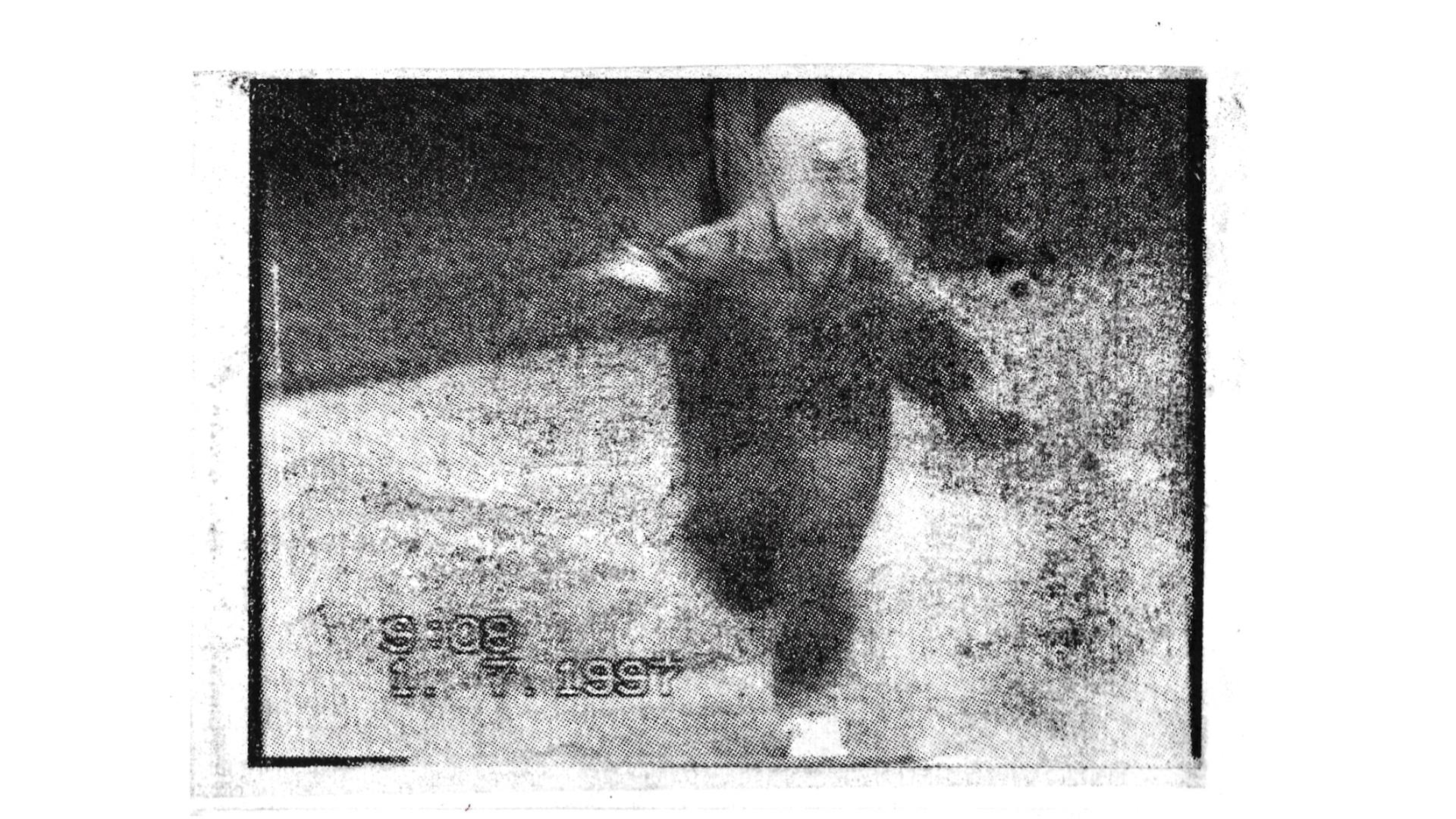 EADEM CUTIS: DIESELBE HAUT | EADEM CUTIS: THE SAME SKIN
Nina Hopf, 2019, Germany, 5 min

John, the filmmaker's twin brother, speaks and shares his thoughts on identity, body and gender. Layered prints create an immediate proximity between the twins' bodies.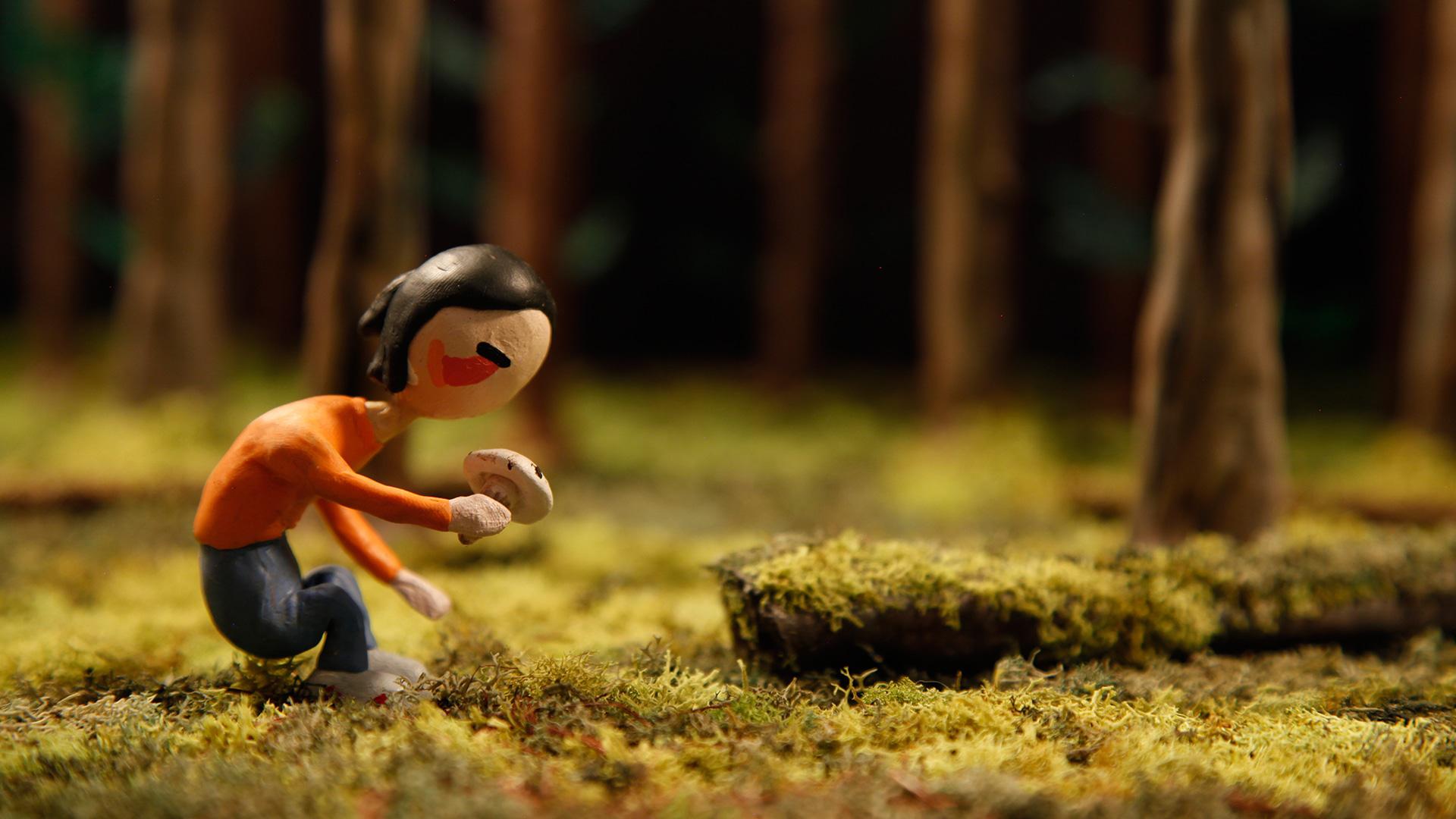 IN THE SHADOW OF THE PINES
Anne Koizumi, 2020, Canada, 8 min

Drawing on childhood memories the filmmaker stages a conversation and sensitively explores her upbringing and ambiguous relationship with her Japanese immigrant dad, who was also the janitor at the elementary school she attended.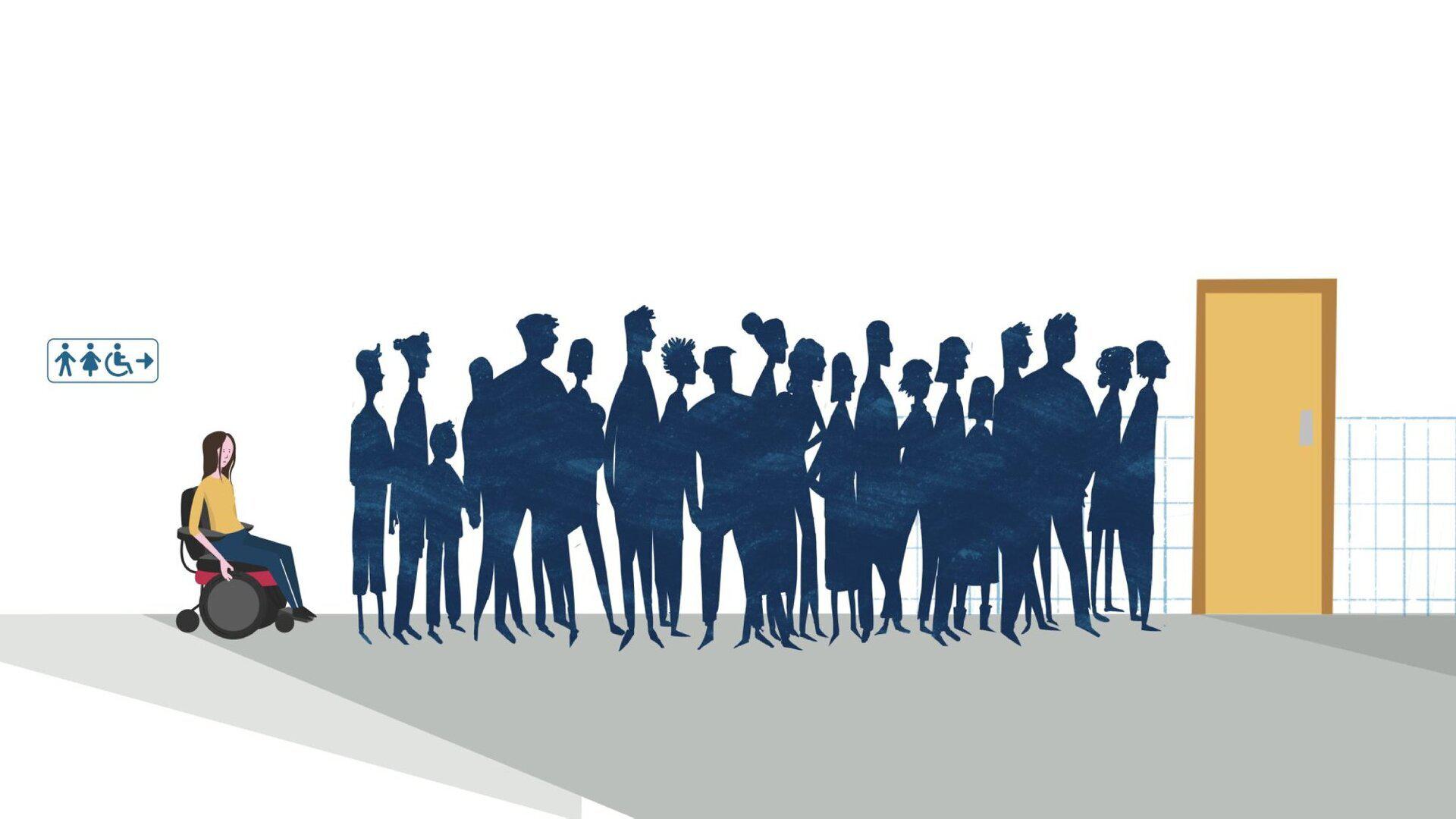 BATHROOM PRIVILEGES
Ellie Land, Rupert Williams, 2019, United Kingdom, 5 min

Stories of unexpected interactions and awkward moments: Bathroom Privileges looks at some of the difficulties people face accessing public bathrooms. Through a series of recorded interviews with contributors Emma, Ben and Kemi, the public bathroom becomes a lens through which to view the experiences and testimonies of marginalised communities.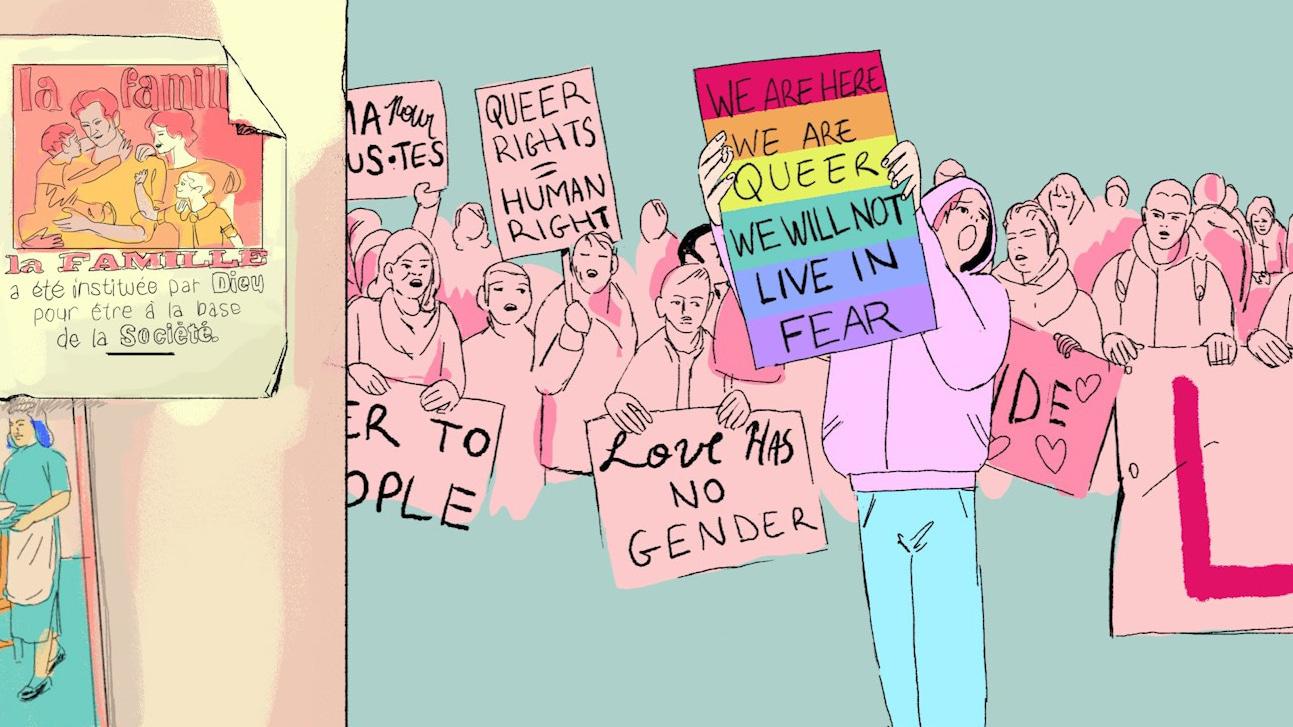 AMOURS LIBRES | POLYAMORY
Emily Worms, 2020, Belgium, 4 min

Two friends talk about their relationships. Between polyamory and politics, they speak about their way of living love freely.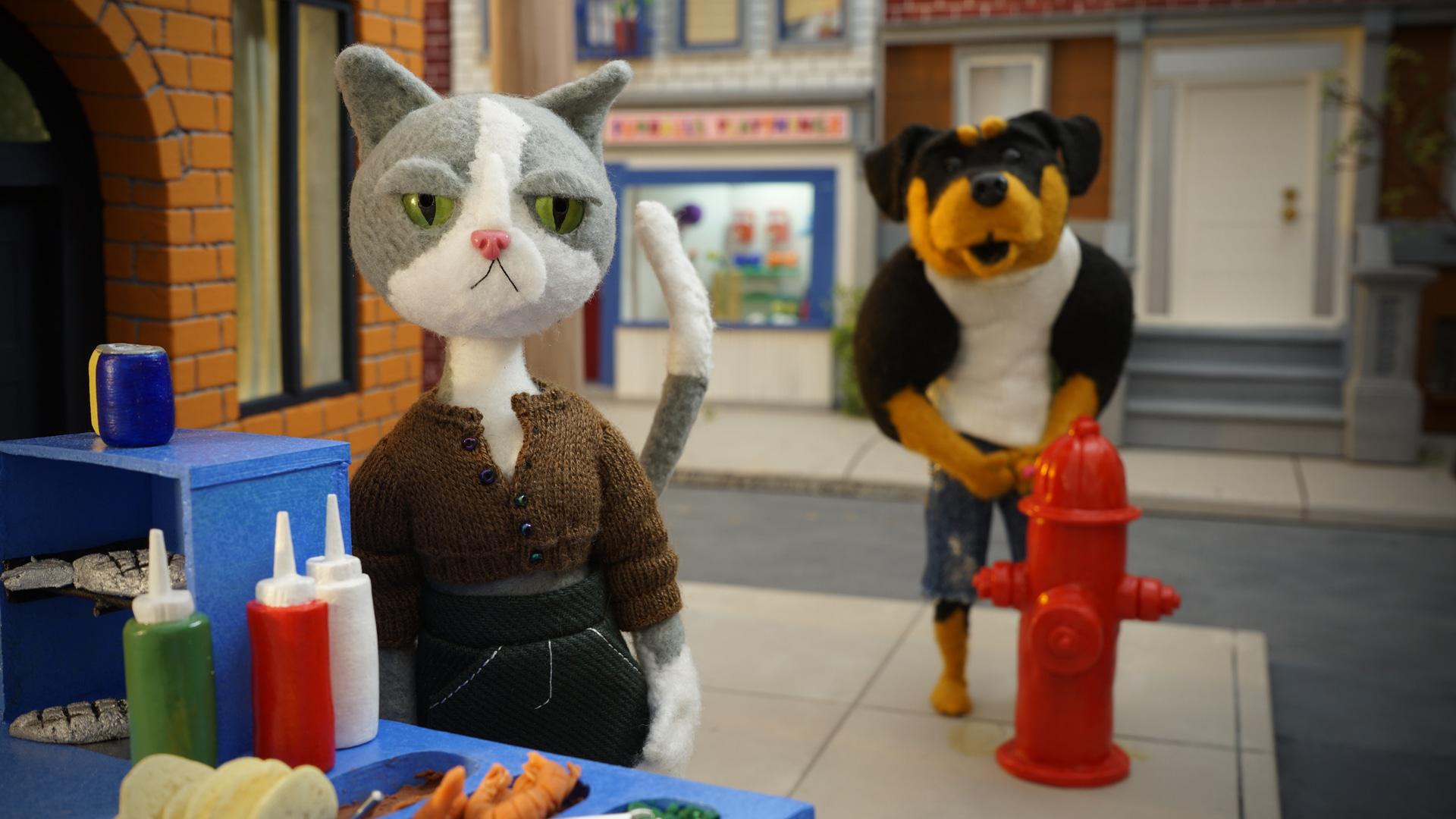 CATCALLS
Laura Stewart, Anna Berezowsky, 2020, Canada, 2 min

A stop-motion animation exploring street harassment using cats, dogs, and real sentences that humans said to other humans.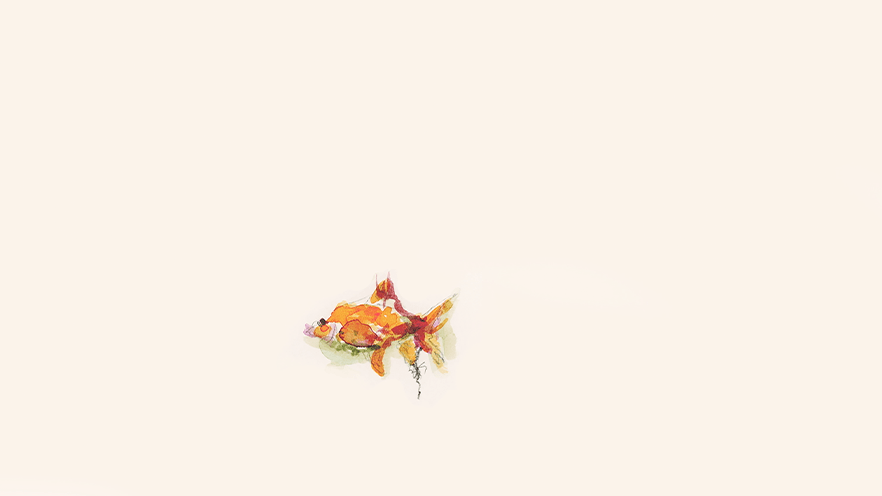 MIZUKO | WATER CHILD
Kira Dane, Katelyn Rebelo, 2019, USA/Japan, 14 min

In Japanese, there is a special word for an unborn life: 'Mizuko', which means 'water child', is used to refer to miscarried and aborted pregnancies. A Buddhist ritual of grief called 'mizuko kuyo' allows parents to spiritually return their water children to the sea. Based on the Japanese-American filmmaker's own story, Mizuko is an intimate reckoning with the impact of this cultural context.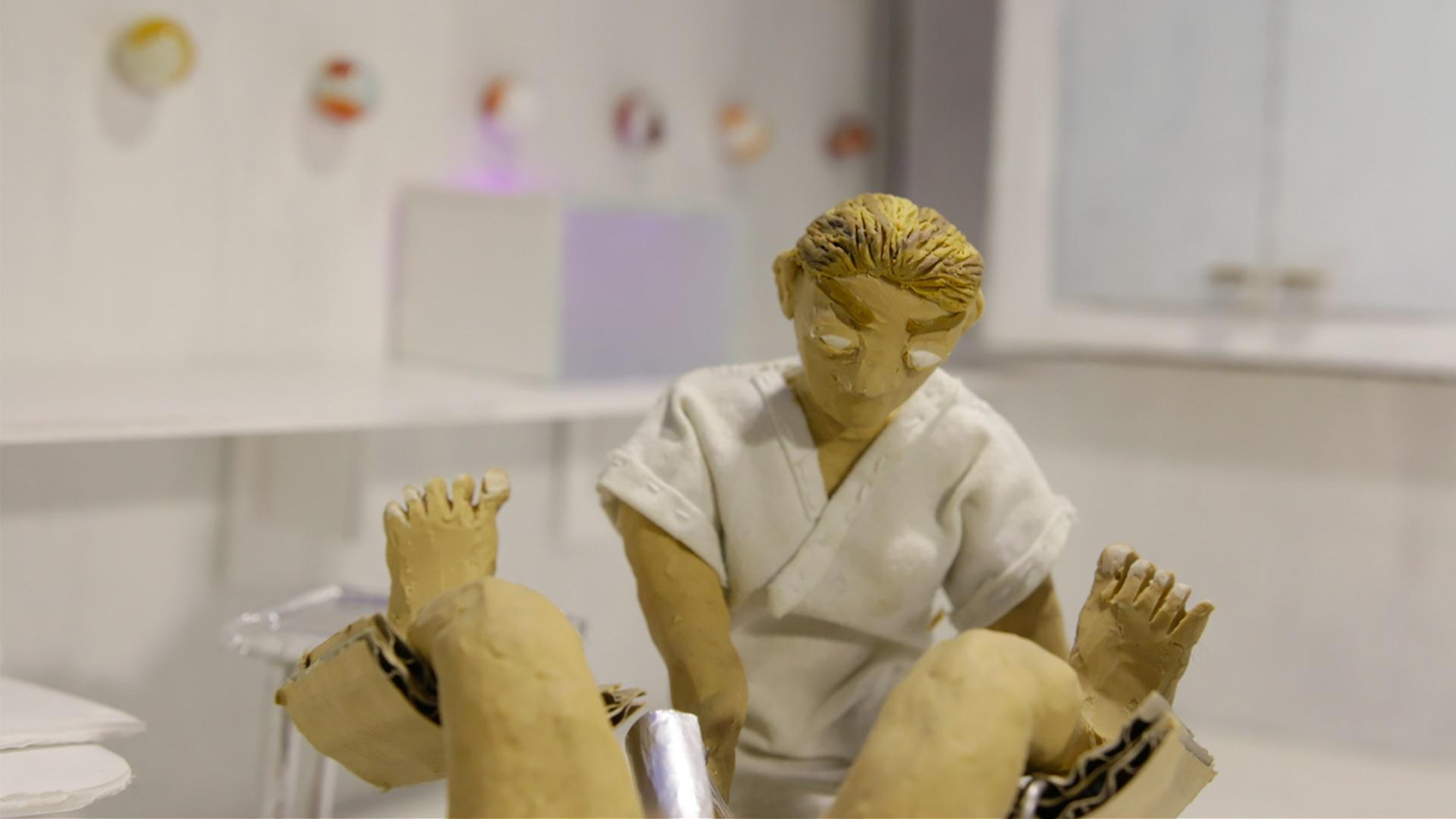 I HAVE MADE MANY WOMEN PREGNANT
Hanna Una Holmquist, 2019, Sweden, 5 min

In an examination room at a fertility clinic, where a couple is about to inseminate, a midwife speaks about the reproductive and family rights of lesbians in Denmark.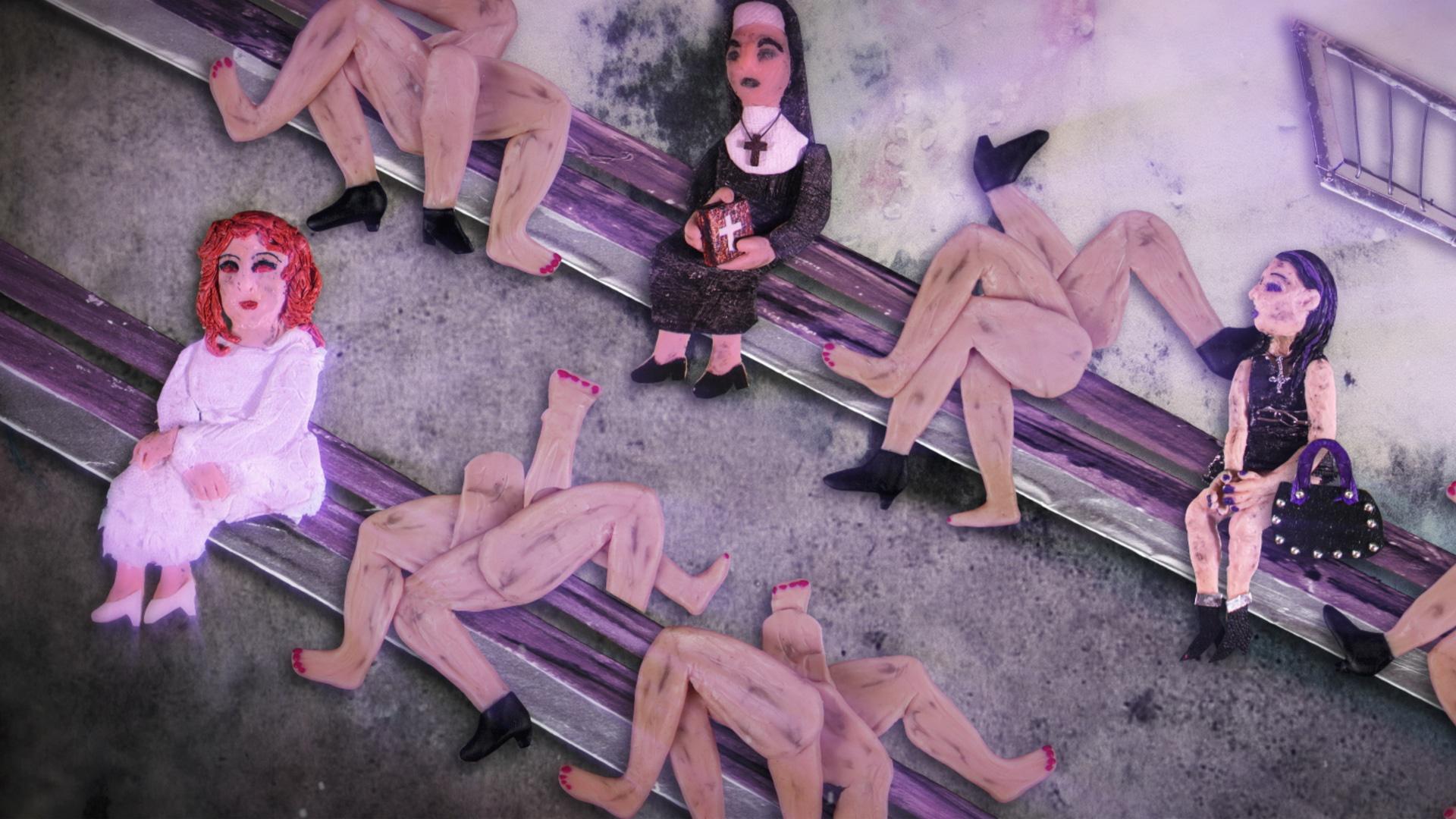 JUST A GUY
Shoko Hara, 2020, Germany, 15 min

A clay puppet animation based on interviews and the director's written encounter with the protagonist. Three women share glimpses of their affection, attraction and relationship with Richard Ramirez, a serial killer and rapist they contacted after he was convicted.

STRUGGLING FOR THE BETTER
69 min / Sun. 14.3., 19:00 / online available for 48 hours
Peacocks on the subway, dreaming escalators, warnings from out of space and epic poems on re- sistance. Inequalities, the climate crisis and violent constructions of normality define contemporary realities. Can we create spheres of planetary togetherness, safe and accessible for every being? How do we move towards a good life for everyone? Creative reflections, fierce struggles and tireless fights for self-expression, freedom of movement and healthy environments are challenging the past, the present and the future.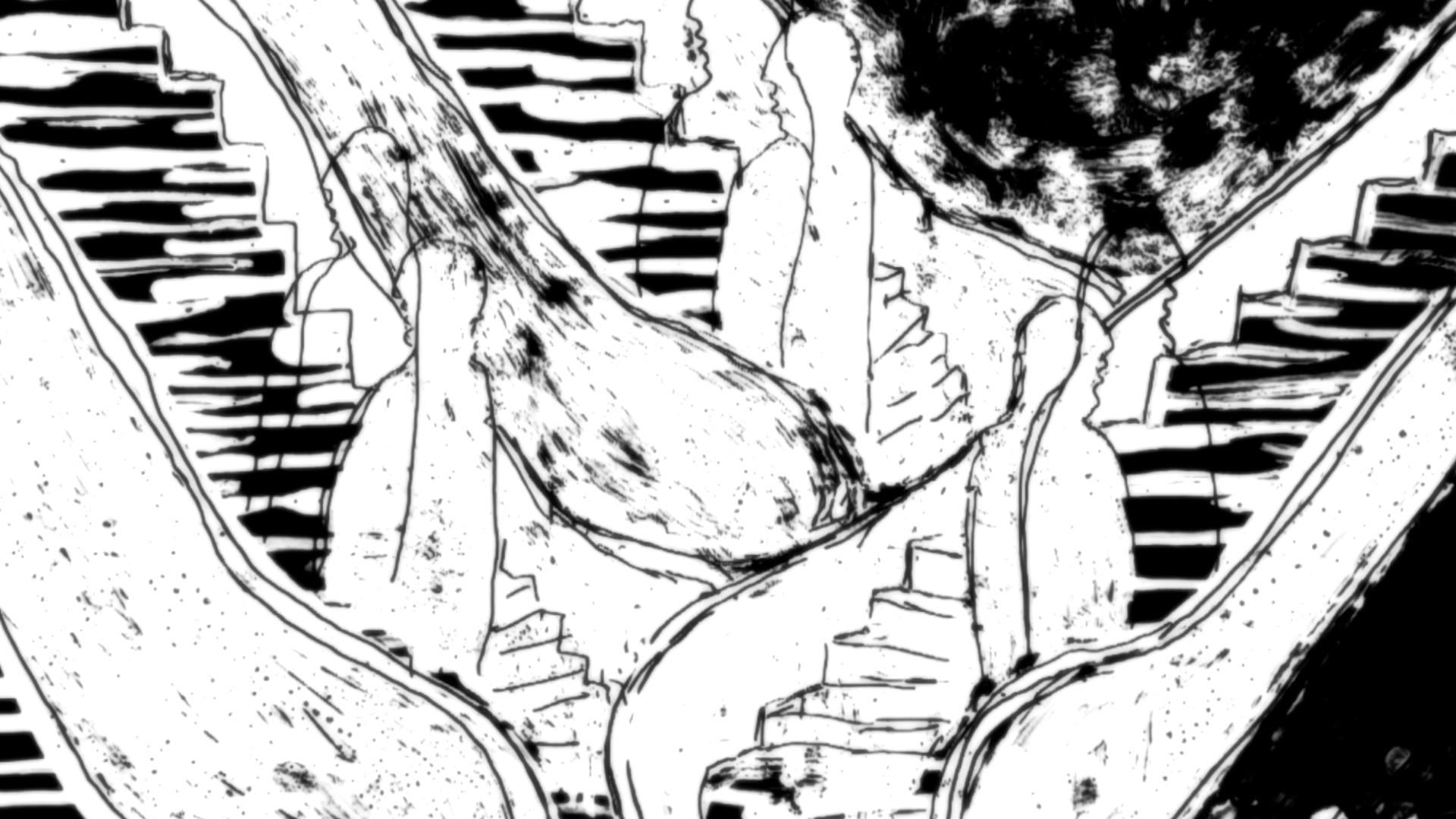 RÊVES D'ESCALATORS NON SOUS-TITRÉ | ESCALATOR'S DREAM WITH NO SUBTITLES
Charlotte Janis, 2020, France, 2 min

An oneiric journey into an escalator's mind, dreaming of its long and repetitive everyday life. A home-made movie using paint, ink and paper on a lightbox, with sounds recorded around La Défense, addressing subjectivities in an urban environment.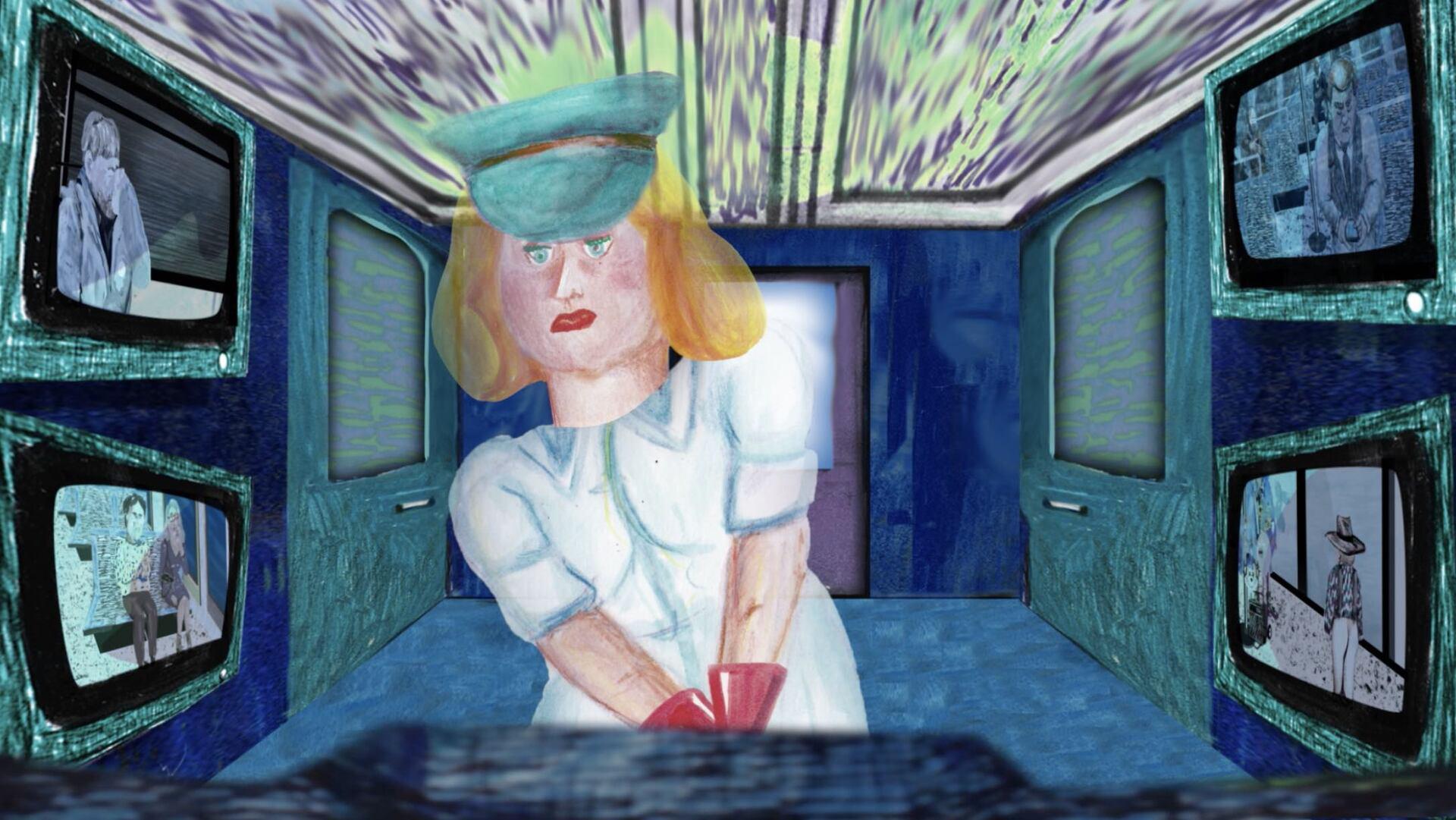 PAS MÊME UN PAON | NOT EVEN A PEACOCK
Cléo Biasini, 2020, France, 5 min

A surreal ride. Realities clashing, normalities being redefined. A tired lady. A man hungry for commercials. A child who thinks he is Indiana Jones. A libidinous pickpocket. A provocative clown. A drifting subway driver. And above all, balloons. Lots of balloons. In the illuminated subway, there is nothing to report. Not even a peacock.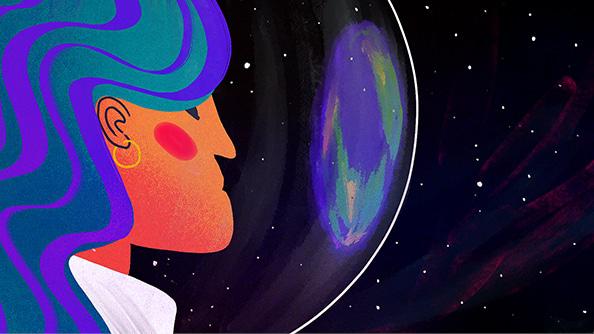 MY DREAM, MY TASTE
Emily Downe, 2020, United Kingdom, 2 min

What does it mean to live a good life? A question reflected upon as we follow a young woman who, as she pursues her dreams, risks becoming detached from the world around her.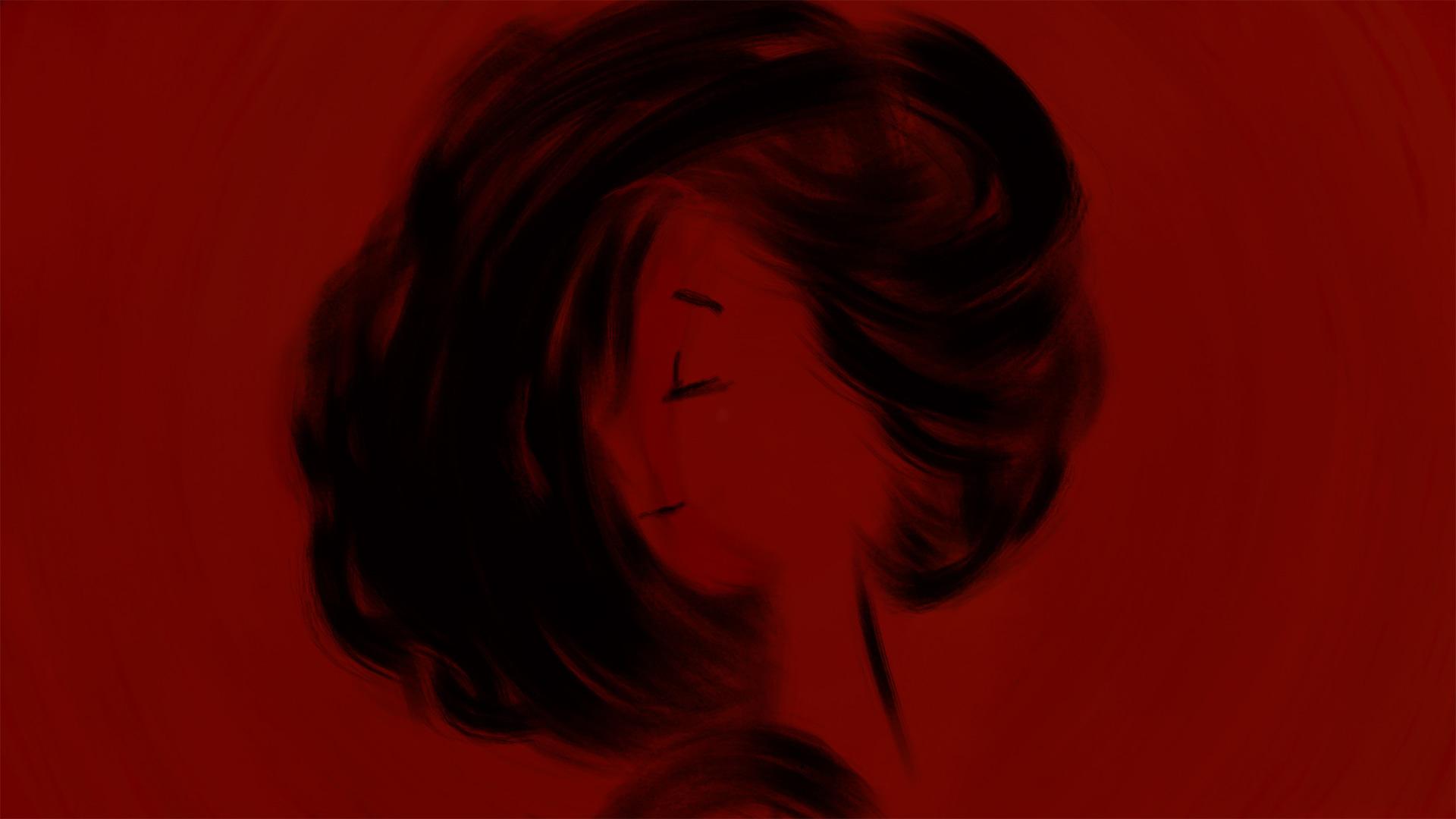 ANIMA
Mahboobeh Mohammadzaki, 2020, Iran, 10 min

The struggle of a person whose expression of self is being censored in a society defined by patriarchal norms and violence. In a hostile environment, freeing and living all aspects of self causes conflicts.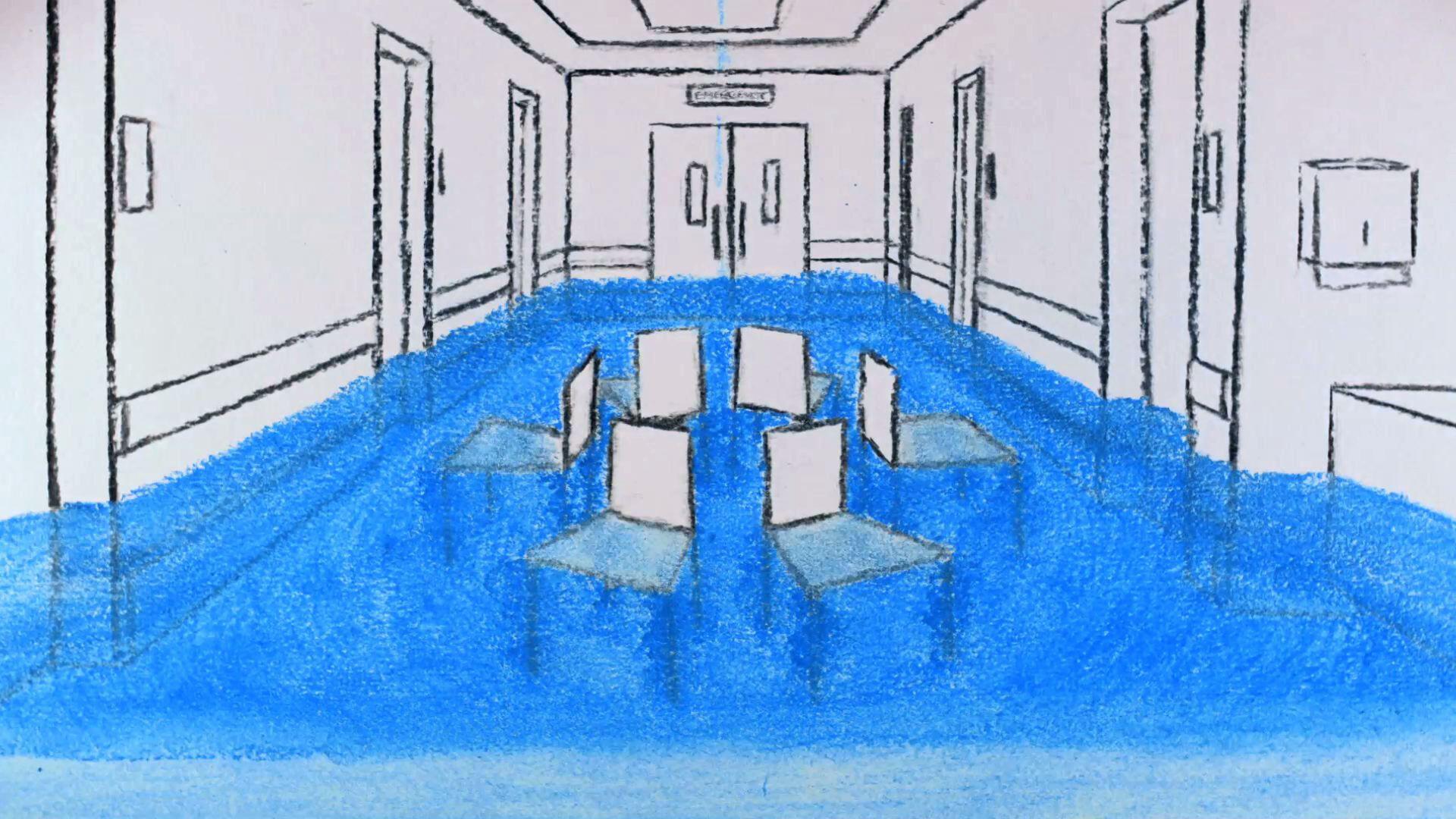 VOICE
Tess Martin, 2020, Netherlands, 2 min

The aftermath of a sexual assault is rendered through charcoal and metaphor in this adaptation of a piece of flash fiction by author Cherie Jones.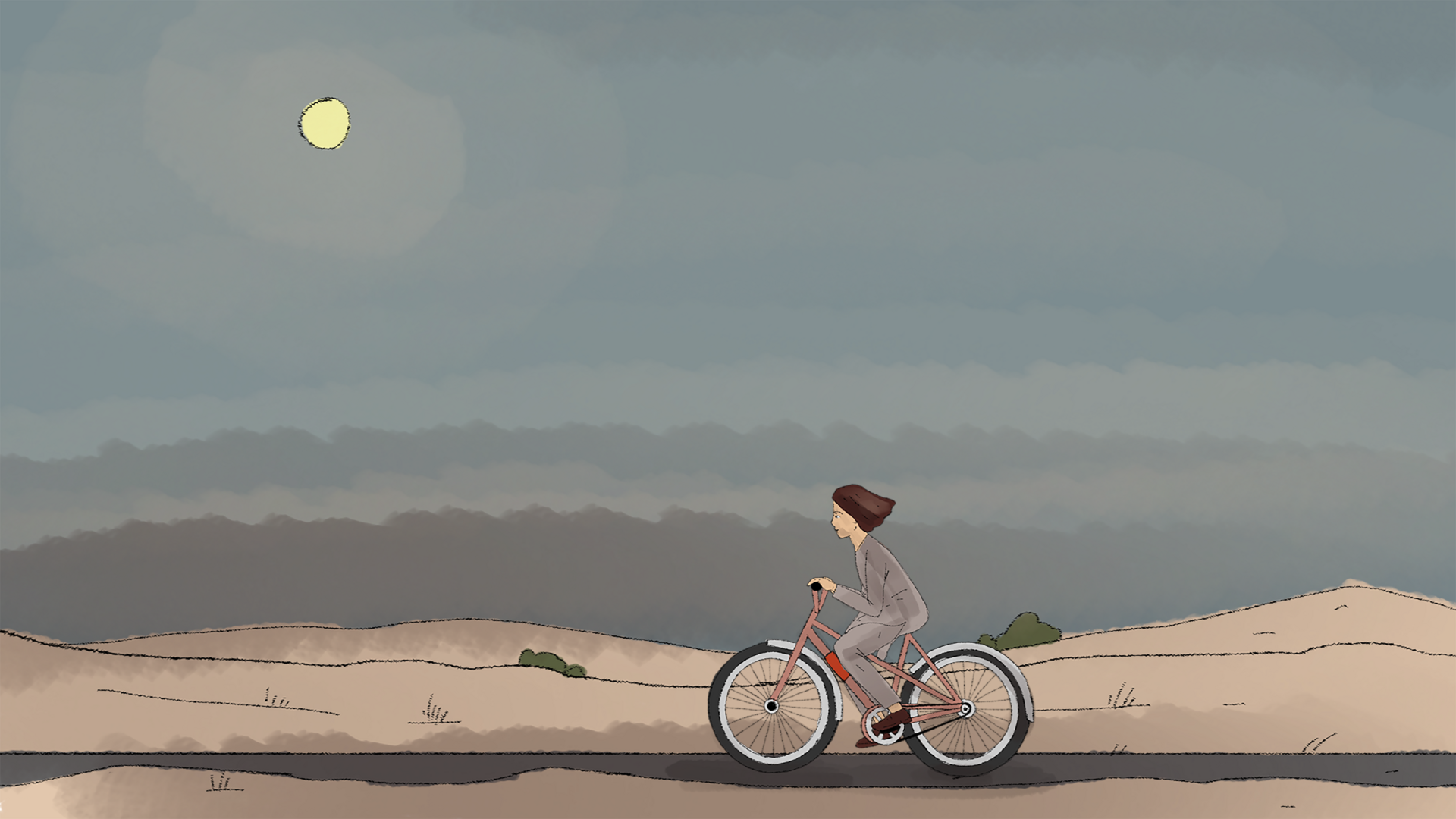 CHE KASI | WHO
Khadije Zafari, 2020, Afghanistan, 8 min

A young girl bravely challenging the expectations put upon her. An empowering bicycle ride through self-determined decision-making and towards emancipation in an environment ruled by patriarchal violence.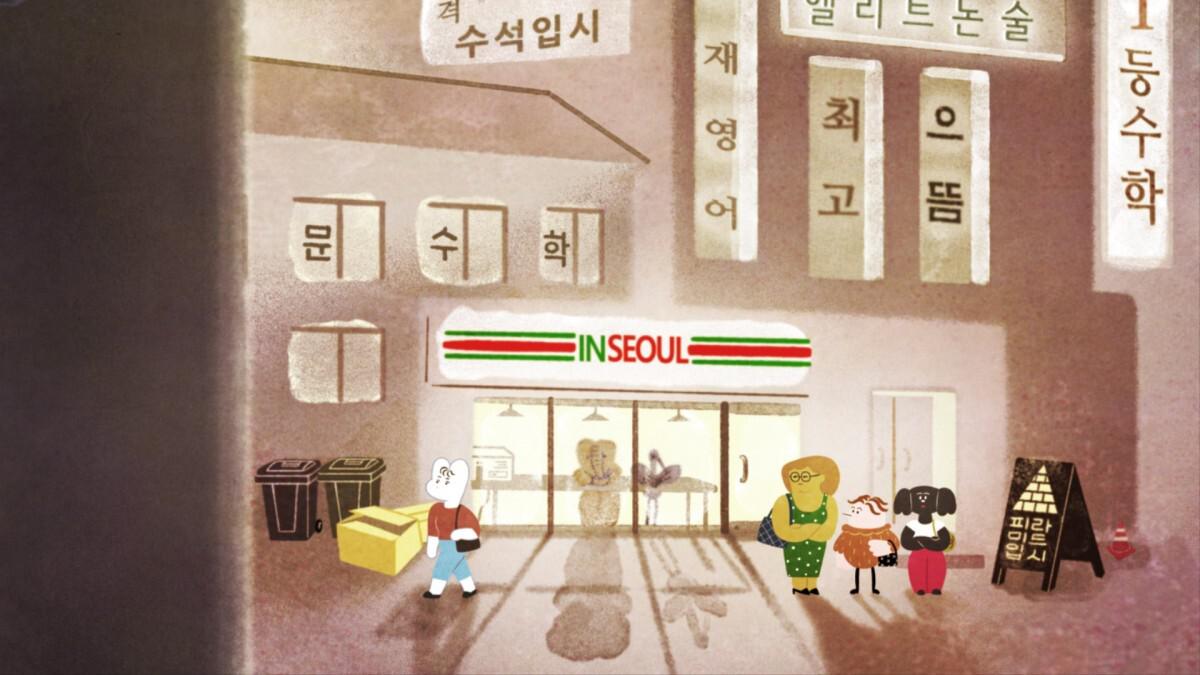 THE END OF THE UNIVERSE
Byung-a Han, 2020, South Korea, 9 min

How do we talk about terminal illness and death? The protagonist's answer is walking: on her walks, she has beautiful encounters that spark new thoughts and perspectives on life and death.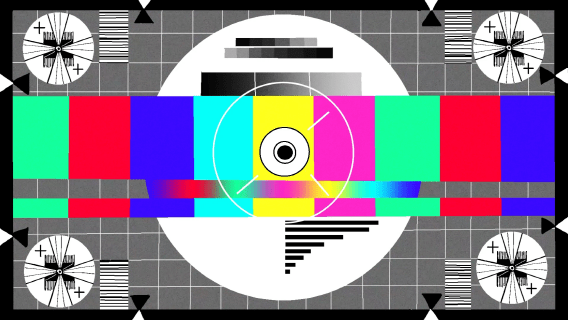 WARNING FROM A COSMIC BEING (WFCB)
Seung-yeon Oh, 2020, South Korea, 1 min

A cosmic being addresses Earth with an urgent call to action. Observing the planet through the eyes of a pigeon, it has seen enough of the destruction and ignorance to know that without immediate radical action great harm will occur.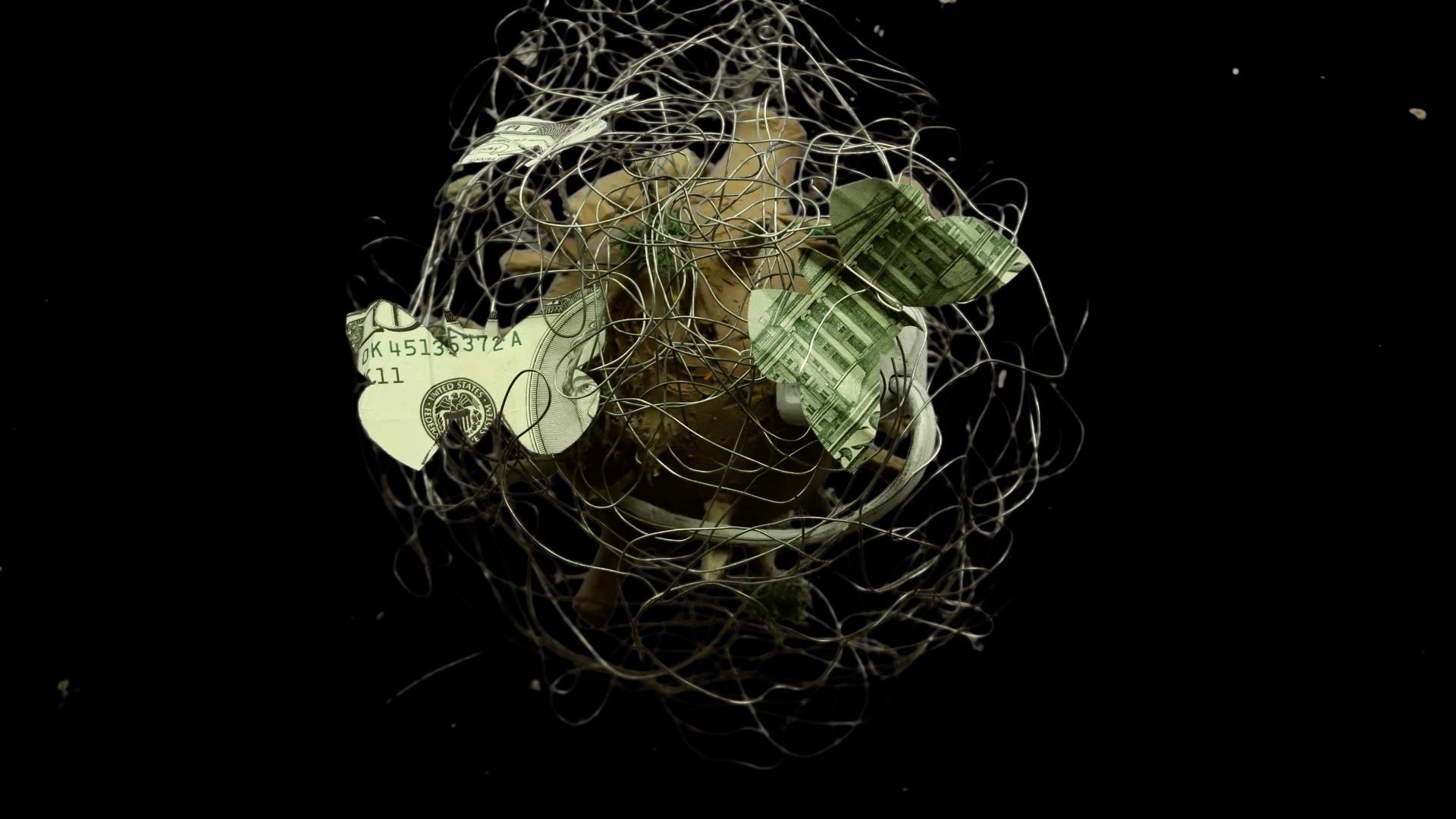 SEQUENCE OF TENSES 
Adele Razkövi, 2020, Austria, 4 min

A message from the past, a direction for the future. In search of codes and formulas for planetary regeneration and reconciliation. The film was created by Adele Razkövi and Vikram Chandra as part of the project 'No Place like the Future', whose motto is 'Art excels in times of crisis'.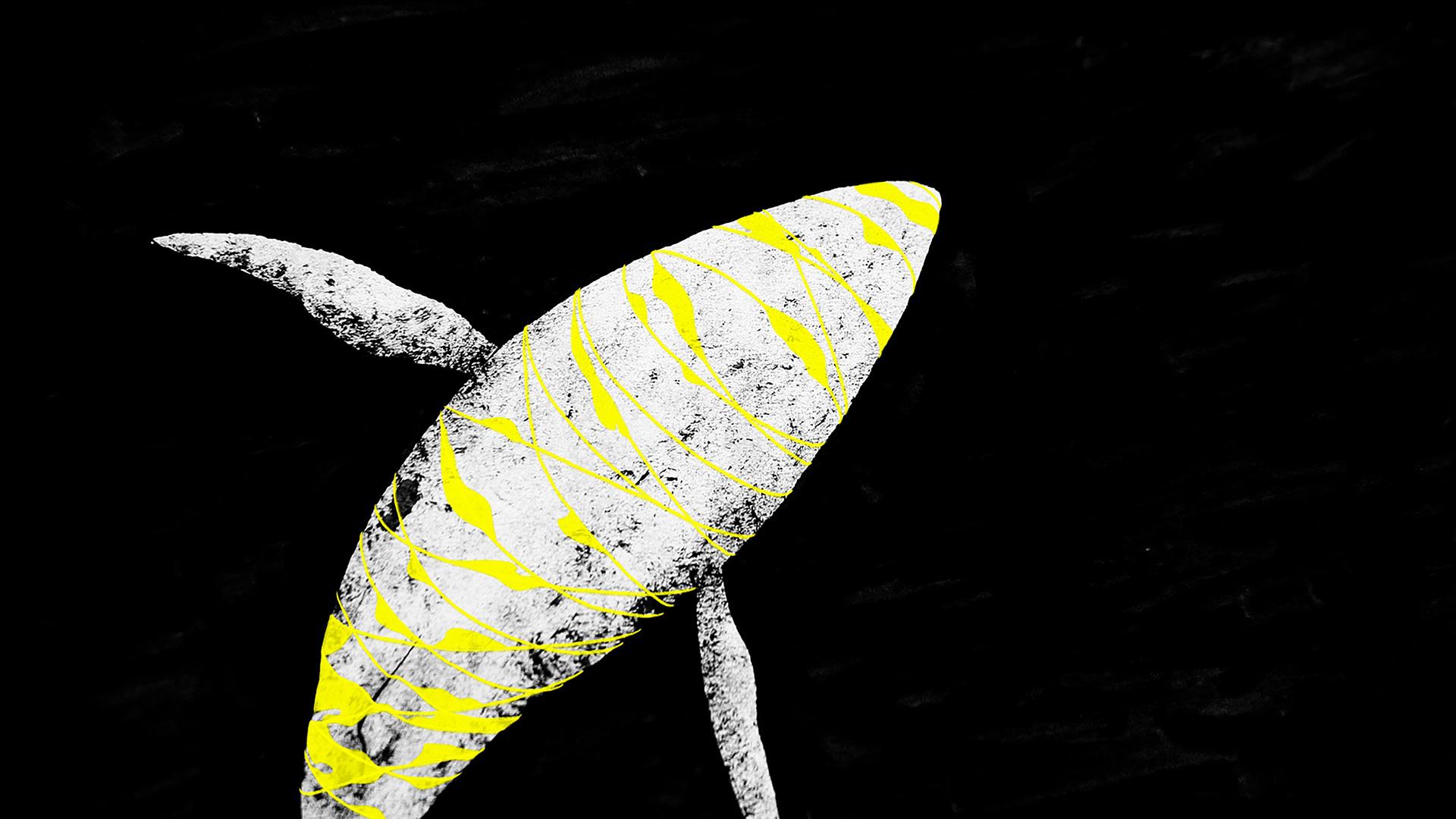 DIMINUENDO
Henrike Lendowski, 2020, USA/Germany/United Kingdom, 3 min

'Diminuendo' visualizes the detrimental effects plastic waste has on marine life and the environment from an emotional point of view. Through visual metaphors, the viewer is guided through sceneries that get more and more covered by plastic. But there is room for change. In the end, it is never too late for a helping hand.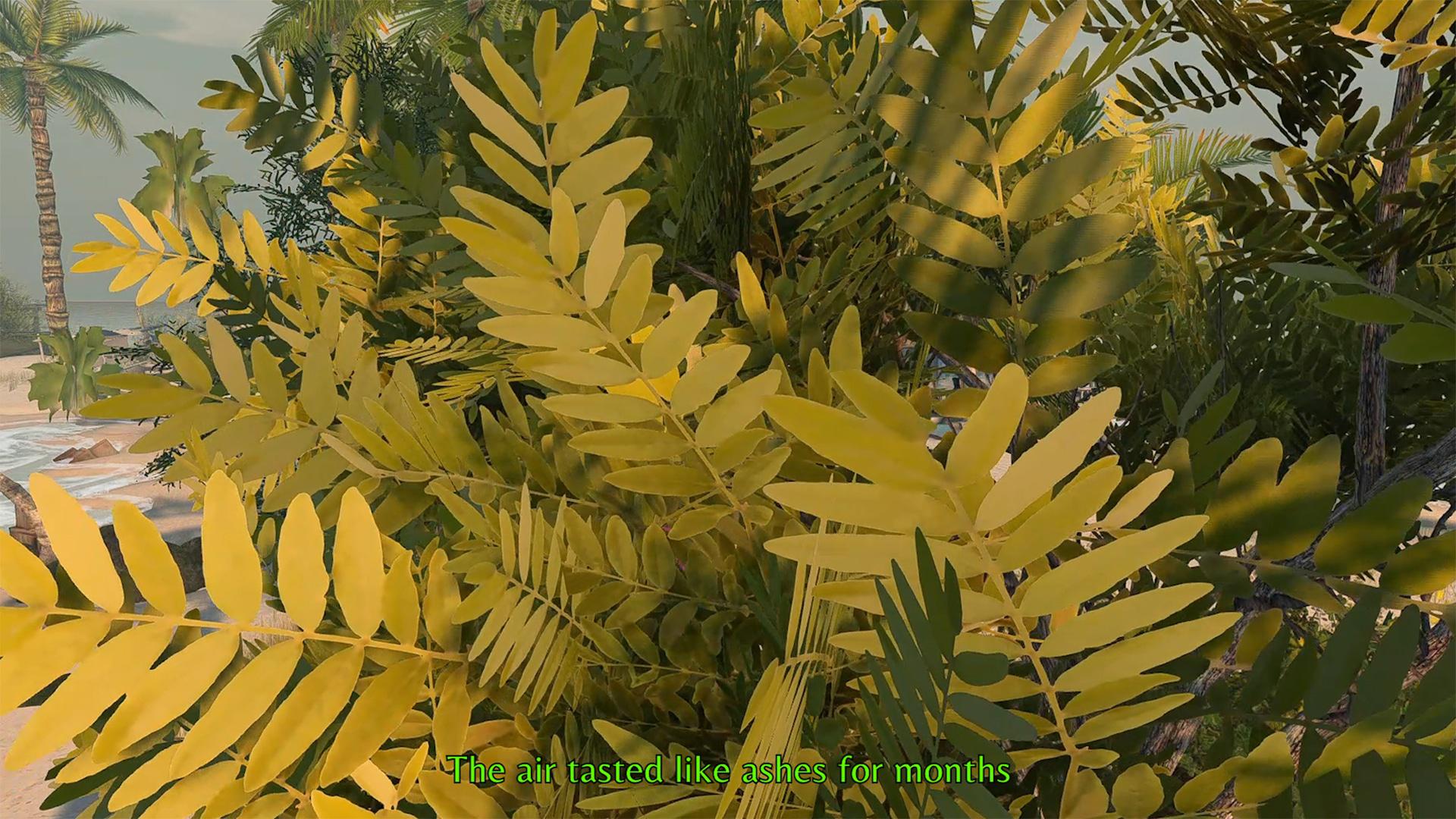 MEX AND THE ANIMALS
Elisa Gleize, 2020, Canada, 8 min

"Mex and the Animals" could be the title of a children's book. How does a person grow up without animals? What imaginary world will we construct around them, and from what? The story is narrated by Mex, a melancholy cyborg who wanders through virtual space among images of different animals. These creatures are no more than rough virtual reconstructions of those that have long since disappeared.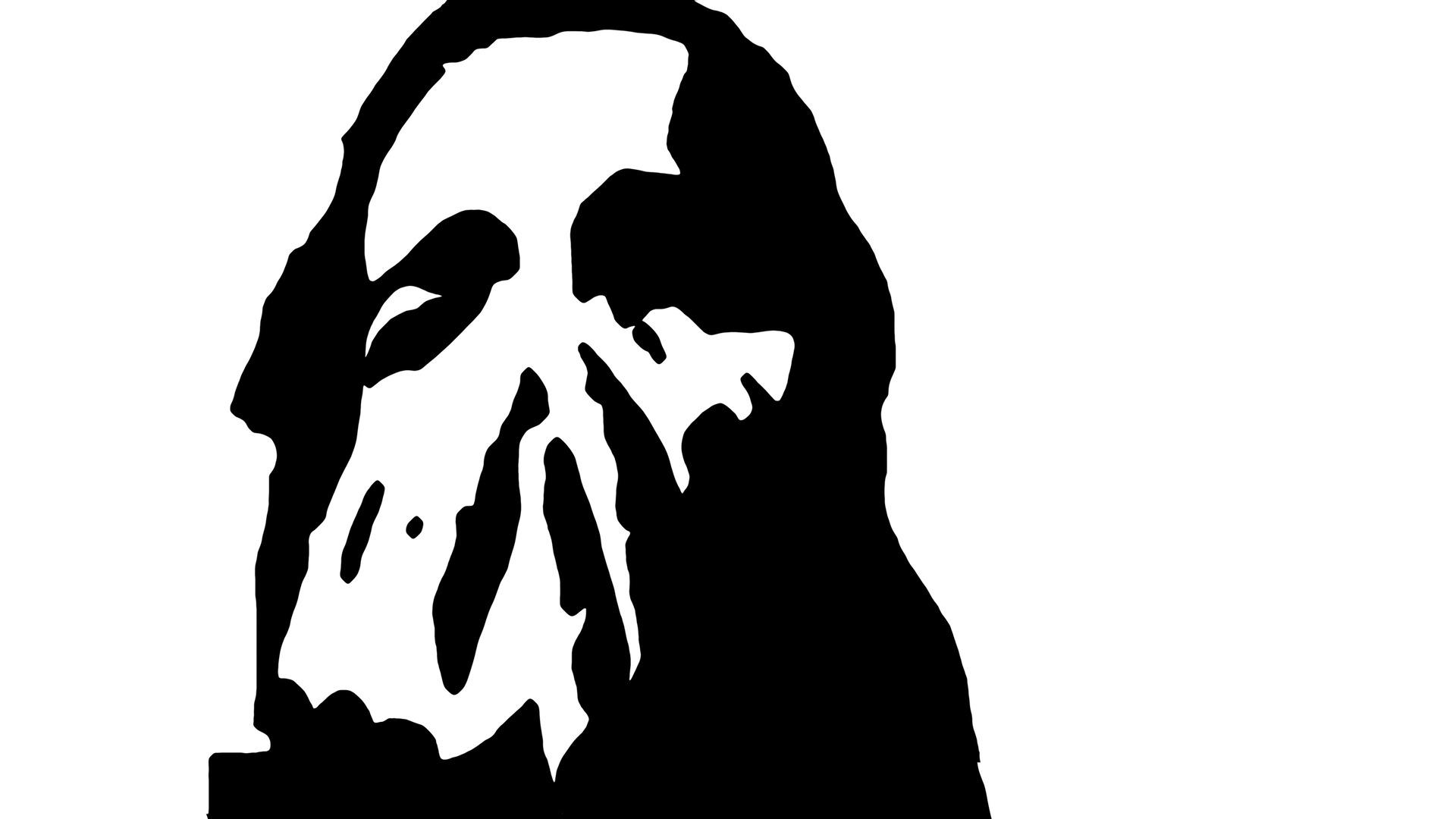 EHIZA | HUNTING
Begoña Vicario, 2020, Spain, 5 min

'to be continued.' The final quote of Ruiz Balerdi's film Ehiza from 1969 was a call to action that resulted in this animation. A continuation referring to Balerdi's aesthetic, yet stepping away from the problematic colonial gaze and perspective of his films. Ehiza strives to depict the harshness of contemporary global realities: structural harassment, violence and destruction.
This film was made by the collective Hauazkena Taldea that consists of Begoña Vicario and nine other women.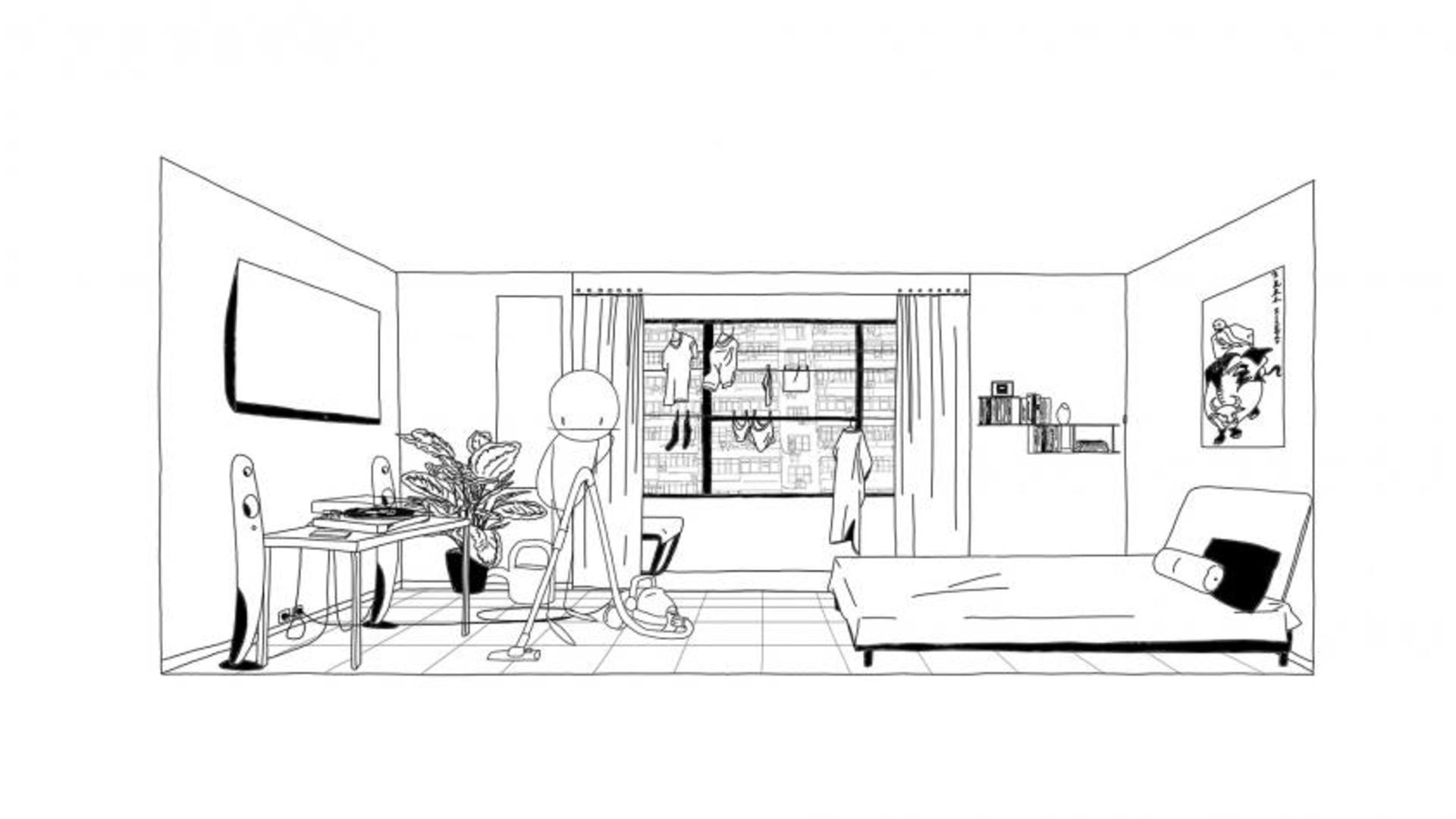 DIESER FILM HEISST AUS RECHTLICHEN GRÜNDEN BREAKING BERT | DUE TO LEGAL REASONS THIS FILM IS CALLED BREAKING BERT
Anne Isensee, 2020, Germany, 4 min

This film begins with a long title and then quickly moves on in search of a good ending. In between, a lot seems familiar. And yet it takes the world and its inhabitants quite seriously – in a humorous manner. An animated lesson in black and white.

supported by  
WORK AFFAIRS
65 min / Sat. 13.3., 19:00 / online available for 48 hours
Loving what we do, striving for appreciation. Feeling a fraud, torturing ourselves. Creating spaces, trying to live dreams. Going underground, flying high. Building constructions and conserving material. Fighting for access, overcoming shame. Resisting capitalism, striving for redistribution. 'Work Affairs'– there's a lot of work in work.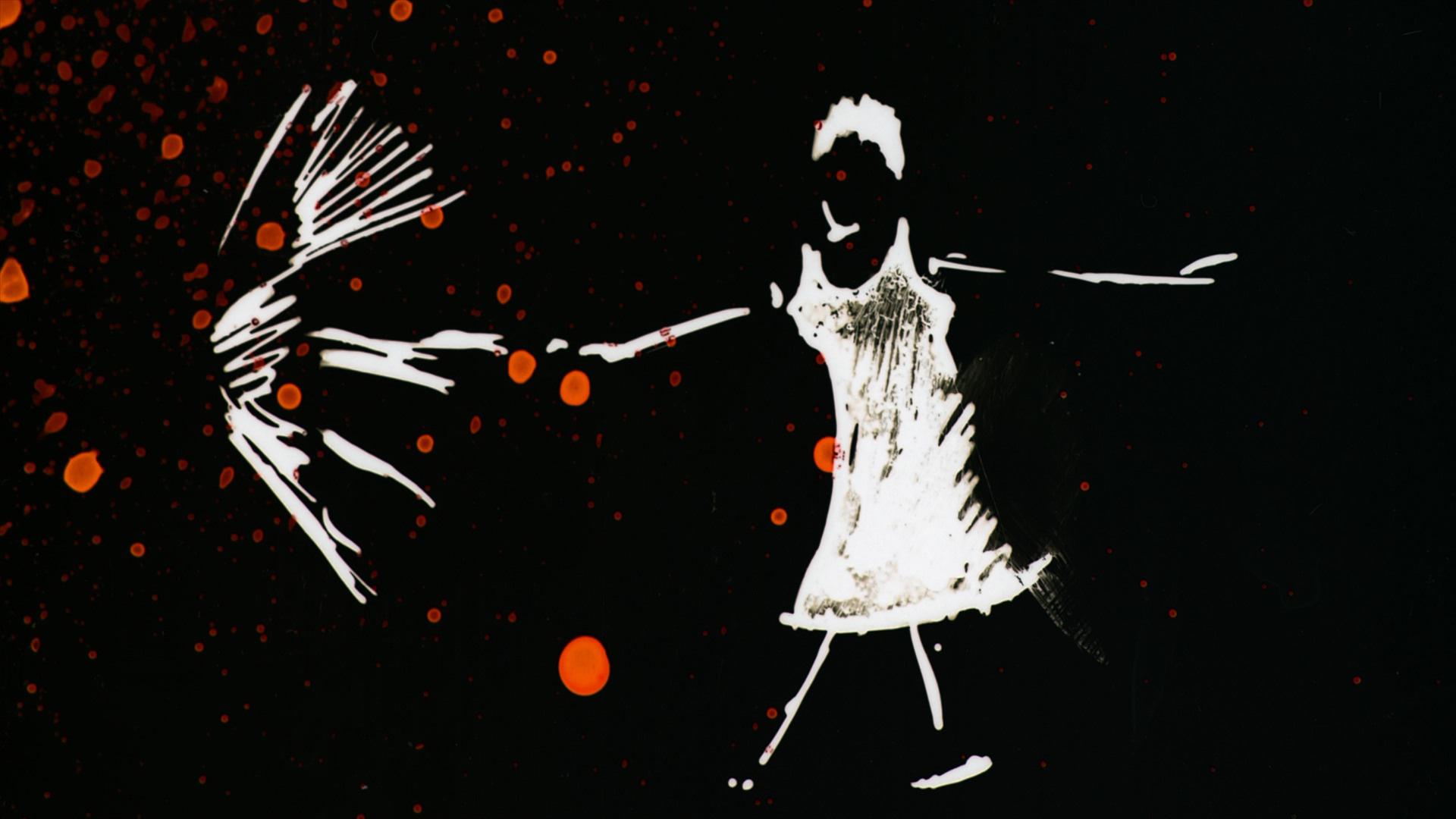 STUNTING CUNTS
Gina Kamentsky, 2019, USA, 2 min

'Go ahead and torture yourself, if that's what you want.' – Gina Kamentsky comments on the realities of artistic work and labour.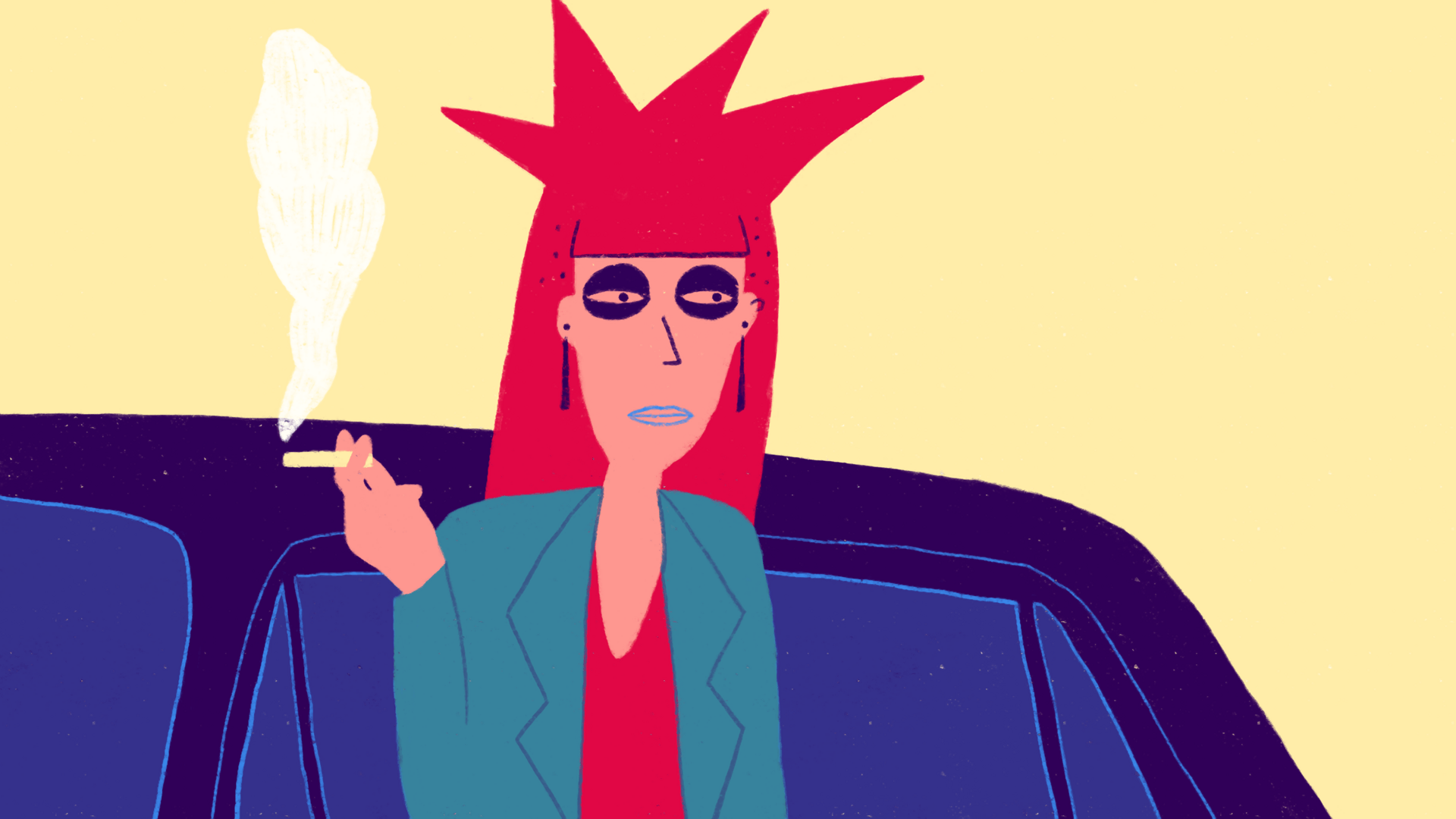 BETTI
Zsuzsanna Ács, 2019, Hungary, 5 min

In the 1980s, Betti Forgó was a freedom-loving punk. She found her independence in driving a cab, and she's been doing it ever since. In an interview Betti shares her reflections on the last 30 years, always in relation to cabbing.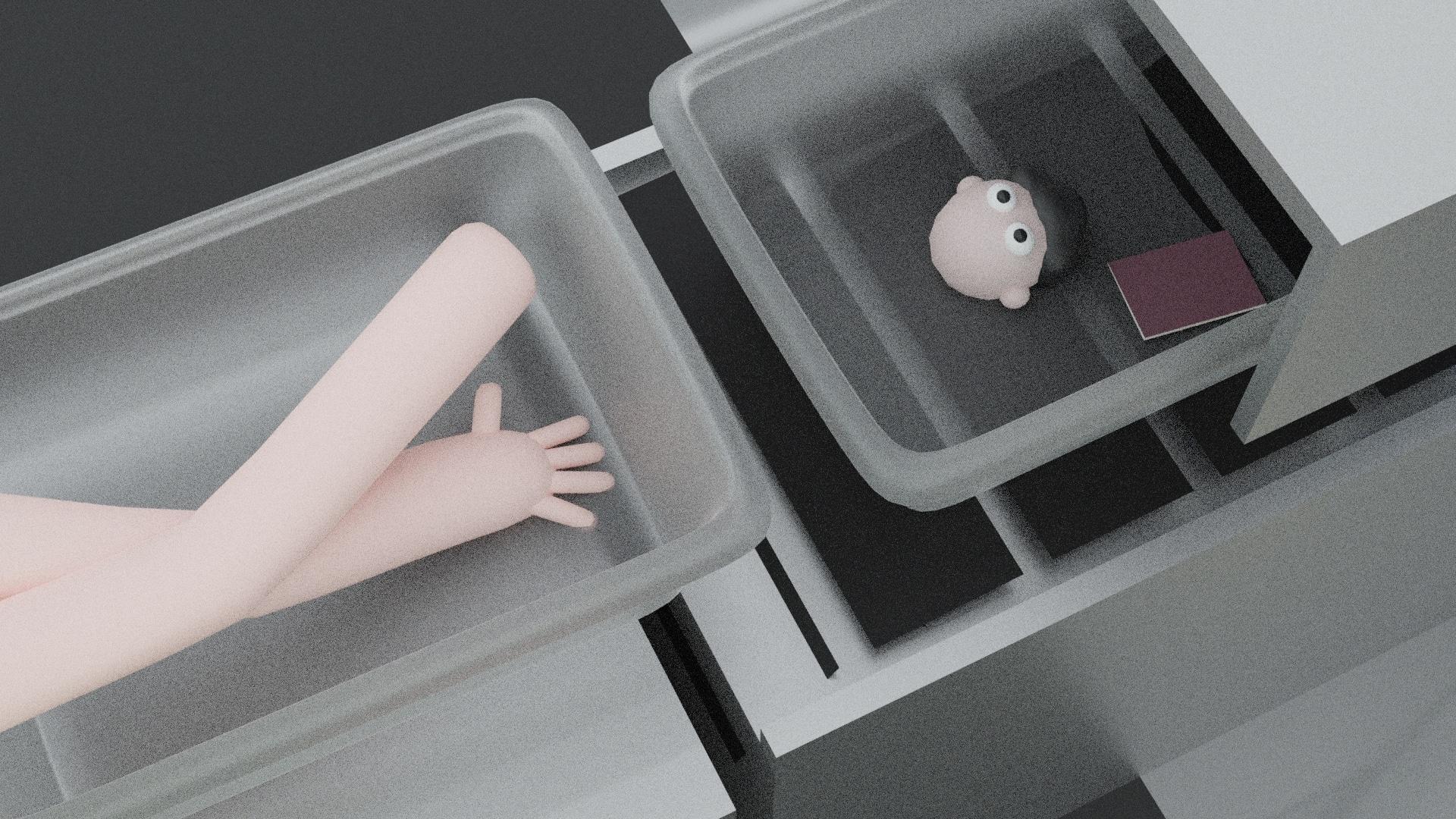 OBYŚ NIE MUSIAŁA TUTAJ WRÓCIĆ | WE HOPE YOU WON'T NEED TO COME BACK
Anastazja Naumenko, 2020, Poland, 9 min

To move, to migrate, to hope. Adjusting to new environments whilst dealing with diverse expectations: those you brought along from home, your very own ones as well as those others have of you. Spaces and bodies that are no longer in sync, shifting dimensions and objectives. Physical obstacles and distorted realities that you face in those worlds in-between.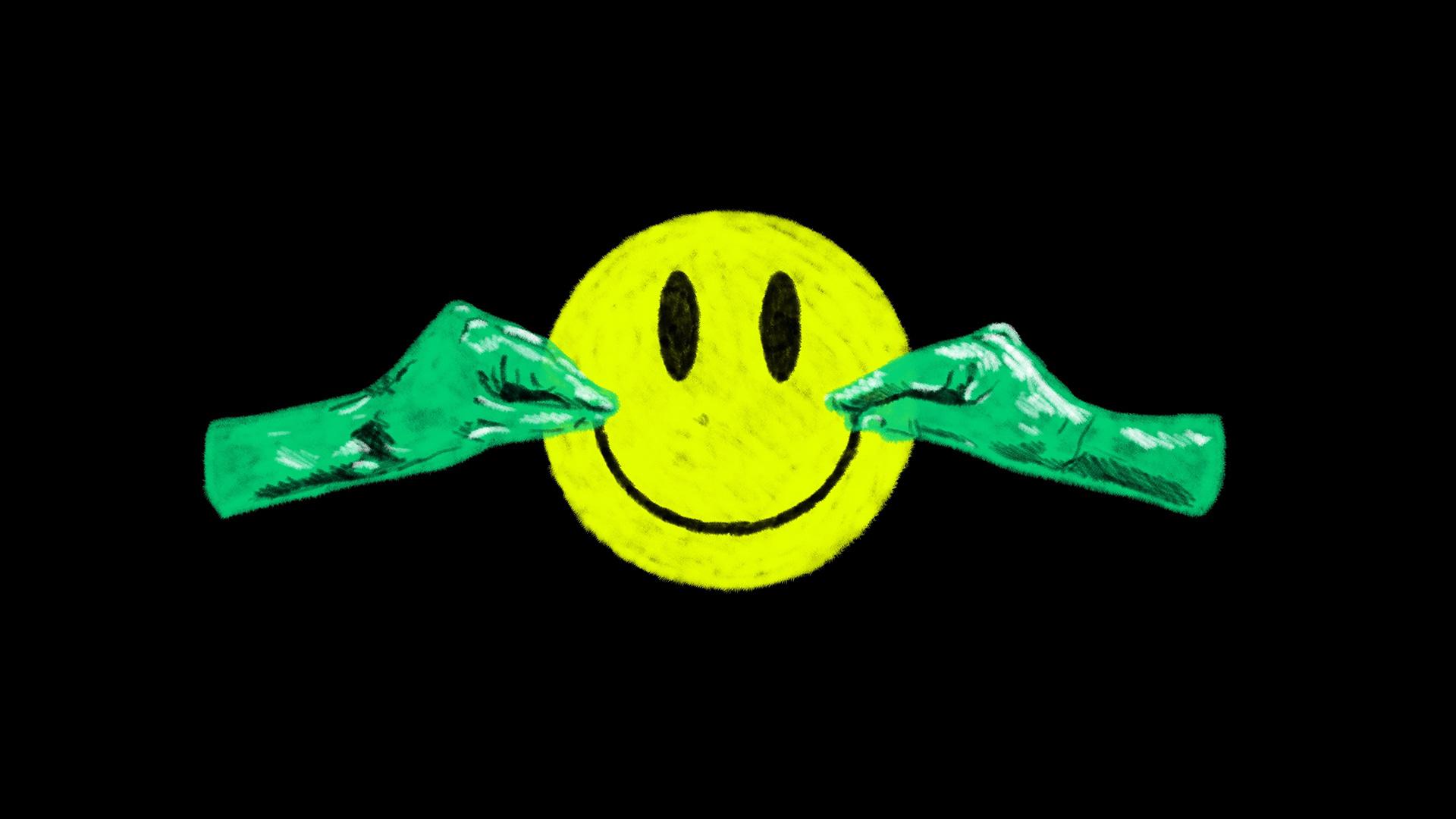 רמאים | Frauds
Rachel Columbus, 2020, Israel, 5 min

Three tales around imposter syndrome, describing the phenomenon from different perspectives - career, friendship and relationships - always discussing the same oftentimes unspeakable secret. Theres no catharsis to the feeling of impersonation, but we learn to live with it.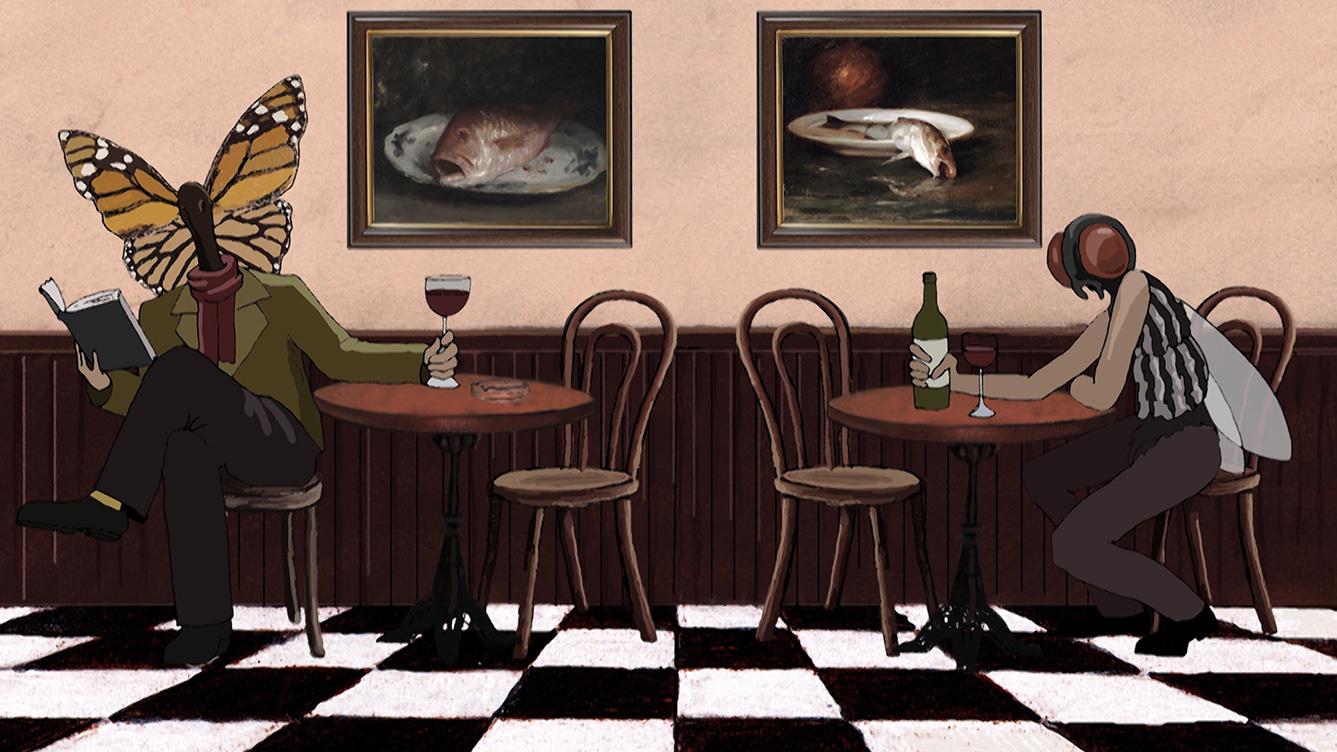 PRIRODNI ODABIR | NATURAL SELECTION
Aleta Rajič, Bosnia and Herzegovina, 9 min

A living sculpture trapped in urban spaces of boredom, melancholia of the utopian museum where she works and occasionally amuses herself by assuming human poses (cleaning, drinking coffee, smoking, sleeping). At home, her life consists of routine and loneliness. Something changes when her body transforms. Her eyes meet a woman dancing in the rain. Will she use her growing animal powers and human eyes to meet, fight, and dance her way out towards her real nature – freedom?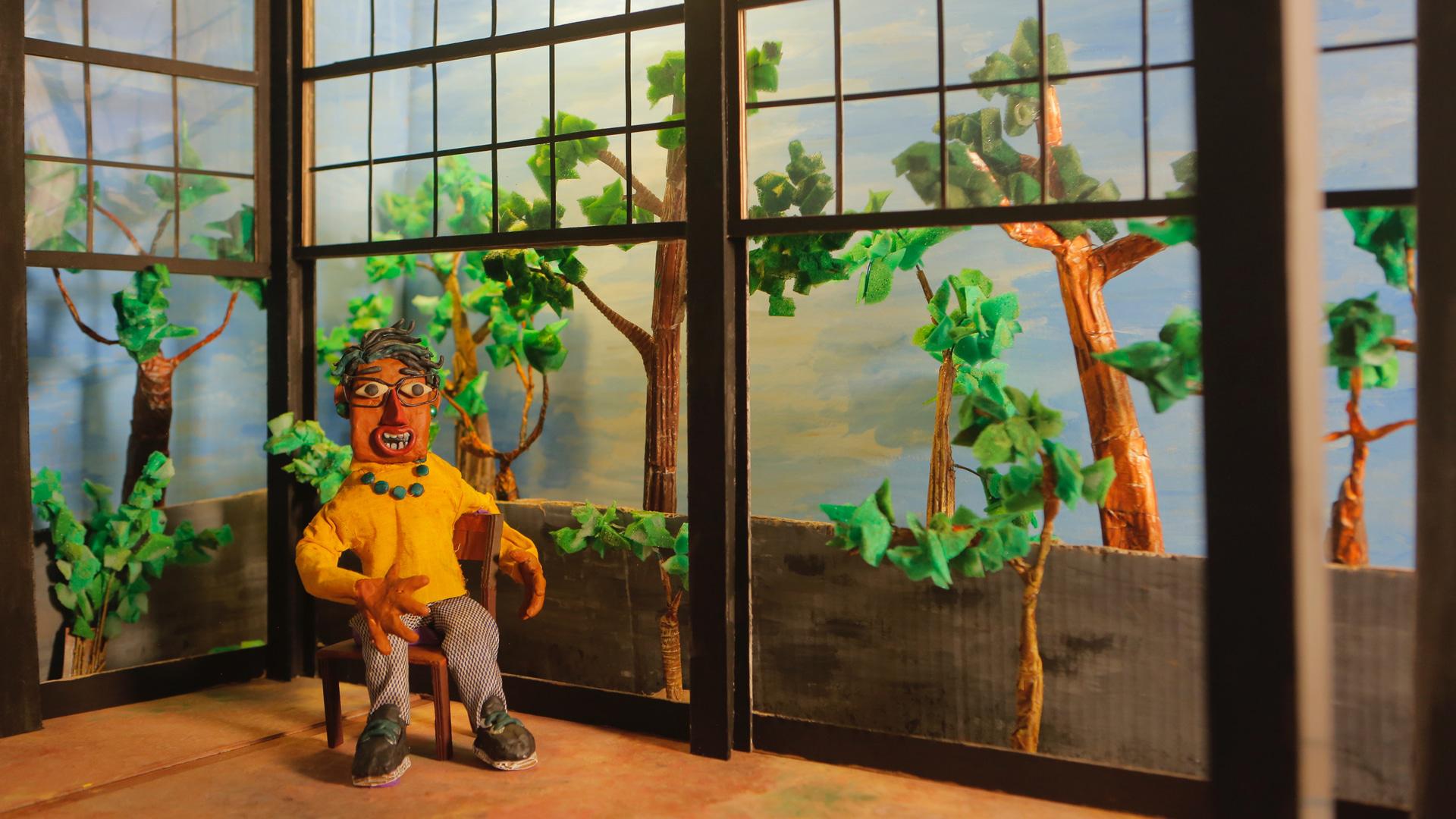 ANIMATE HER SERIES: AMILA DE MEL ON ARCHIVING ARCHITECTURE
Irushi Tennekoon, 2020, Sri Lanka, 3 min

Renowned Colombo-based architect Amila de Mel reflects on spaces, architecture and her biography. The "Animate Her" series is a collection of animated interviews told through stop-motion and experimental animation featuring a group of exceptional women living and working in Sri Lanka.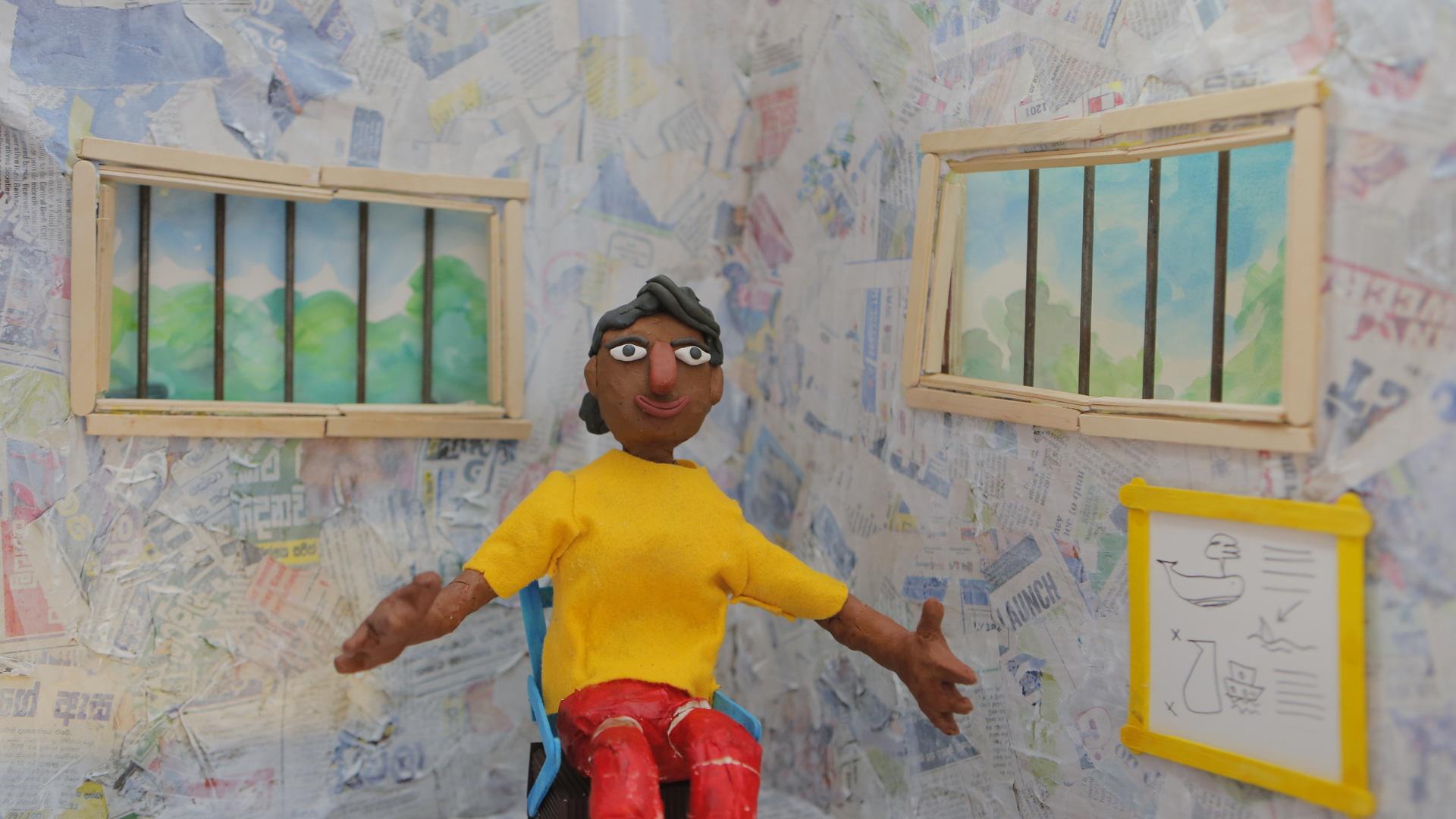 ANIMATE HER SERIES: ASHA DE VOS ON STUDYING BLUE WHALES
Irushi Tennekoon, 2020, Sri Lanka, 3 min

Sri Lankan marine biologist and ocean educator Asha de Vos talks about the blue whale skeleton that first inspired her as a child, and the challenges of being a South Asian woman in science. The "Animate Her" Series is a collection of animated interviews told through stop-motion and experimental animation featuring a group of exceptional women living and working in Sri Lanka.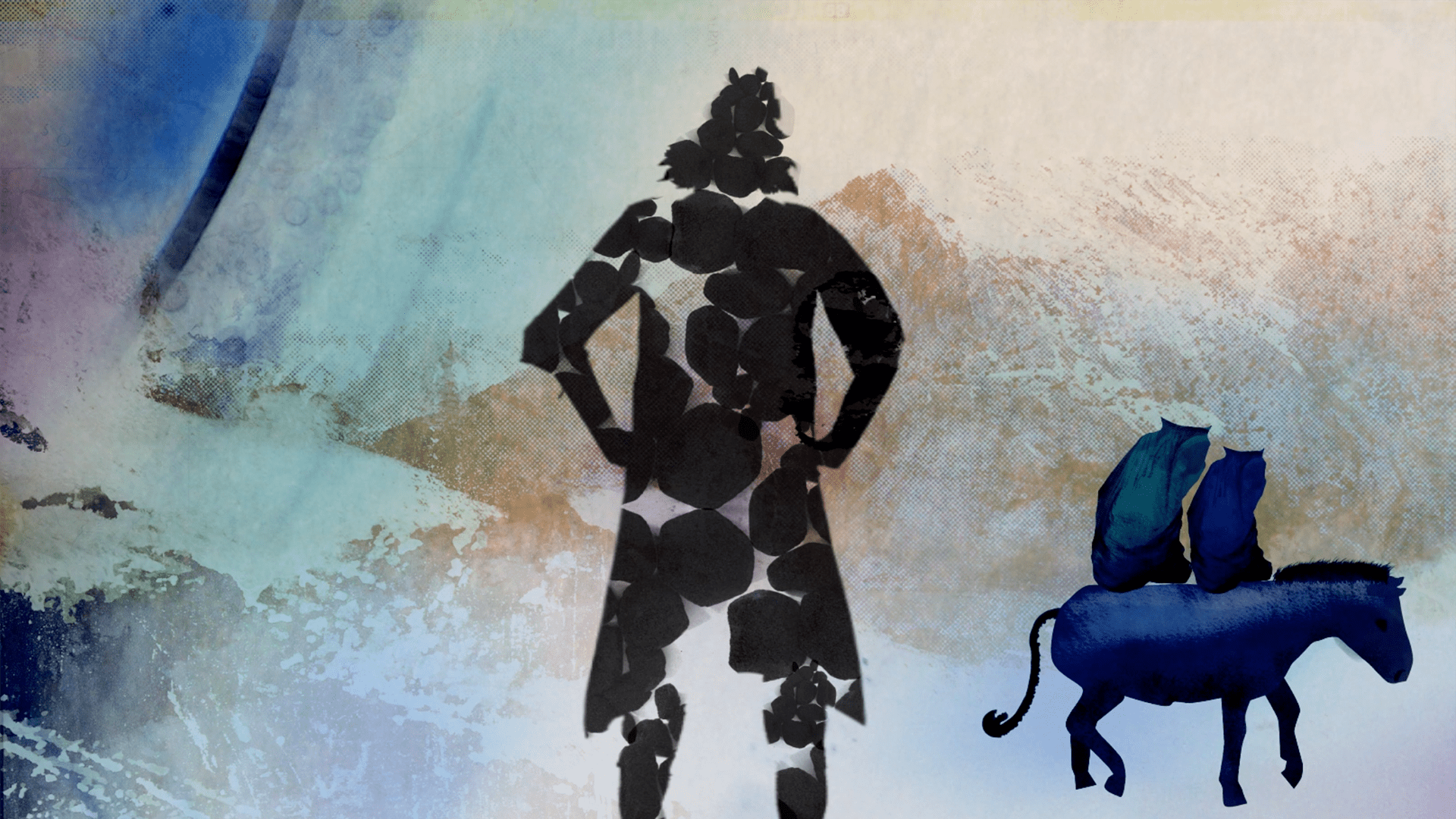 NADIRAH: COAL WOMAN
Kate Jessop, Negar Elodie Behzadi, 2019, United Kingdom, 2 min

An ethnographic portrait on the experience of shame of Nadirah, a female informal coal miner in a small village in the mountains of Tajikistan. Based on a collaborative feminist art-research project,  it aims to make visible otherwise invisibilised stories of shame, focusing on the story of one of the most stigmatised female miners in the village of Kante. By doing so, it raises awareness of issues around gender, work and exclusion, women's restricted access to natural resources, and their stigmatisation in a desolate extractive landscape.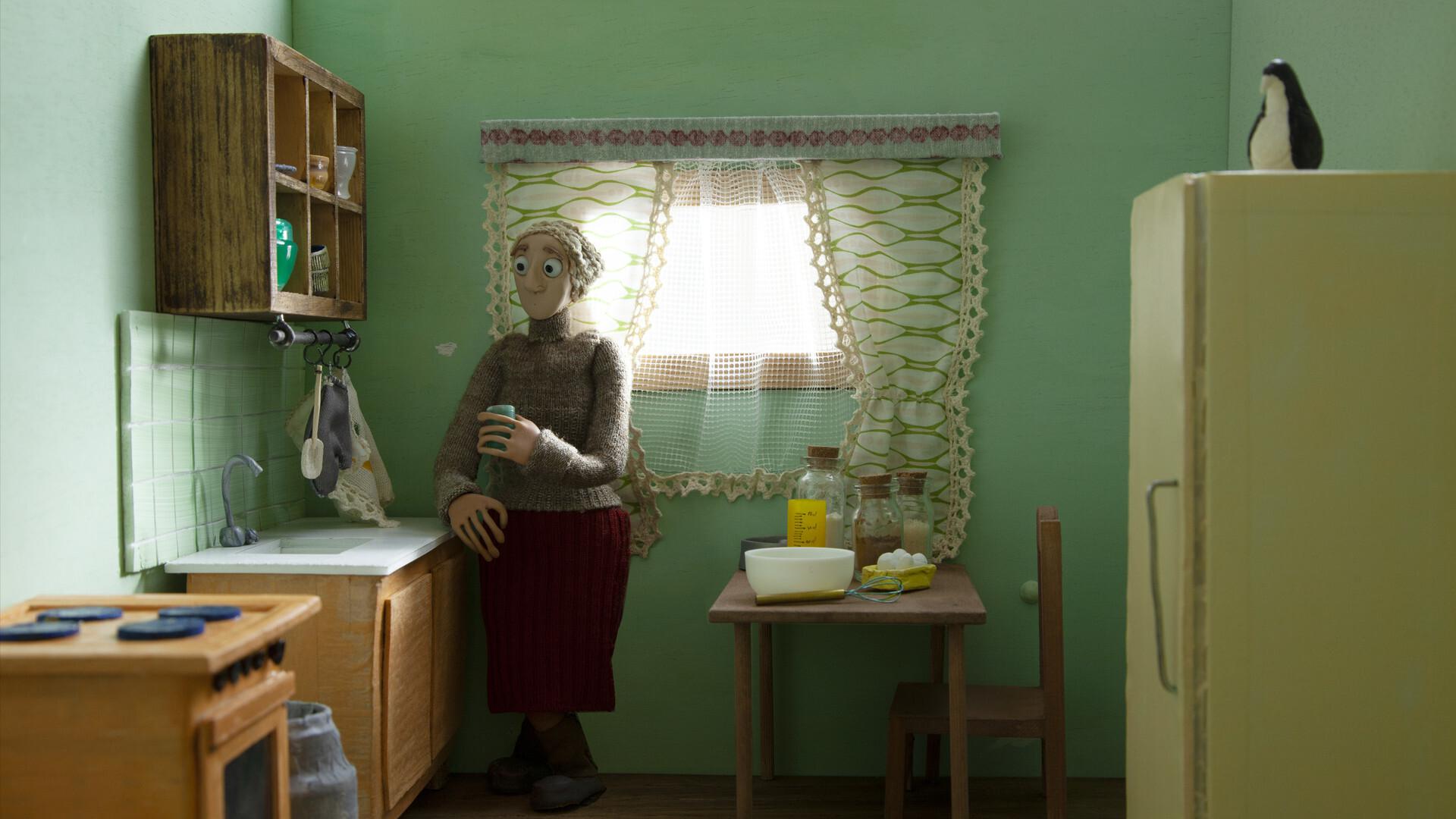 CLAUDETE E O BOLO | CLAUDETE AND THE CAKE
Fádhia Salomão, 2020, Brazil, 4 min

Reproductive labour too often goes unseen and is taken for granted. Claudette never gets tired of sharing her cakes with others. But when this activity becomes an obligation, her joy turns into exhaustion.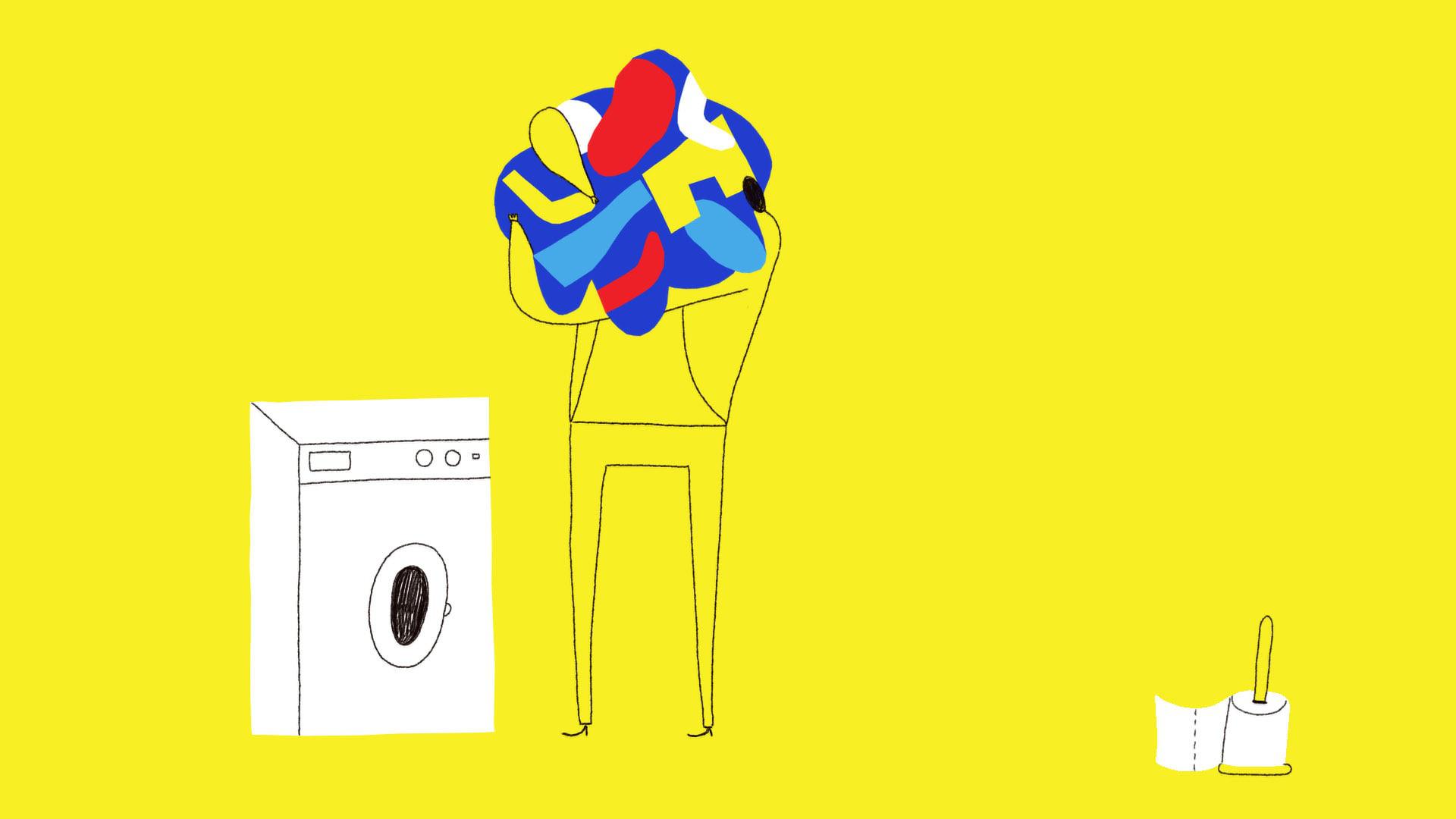 PRAČKA | WASHING MACHINE
Alexandra Májová, 2020, Czechia, 5 min

Wash and love. On a libidinous connection to an everyday object.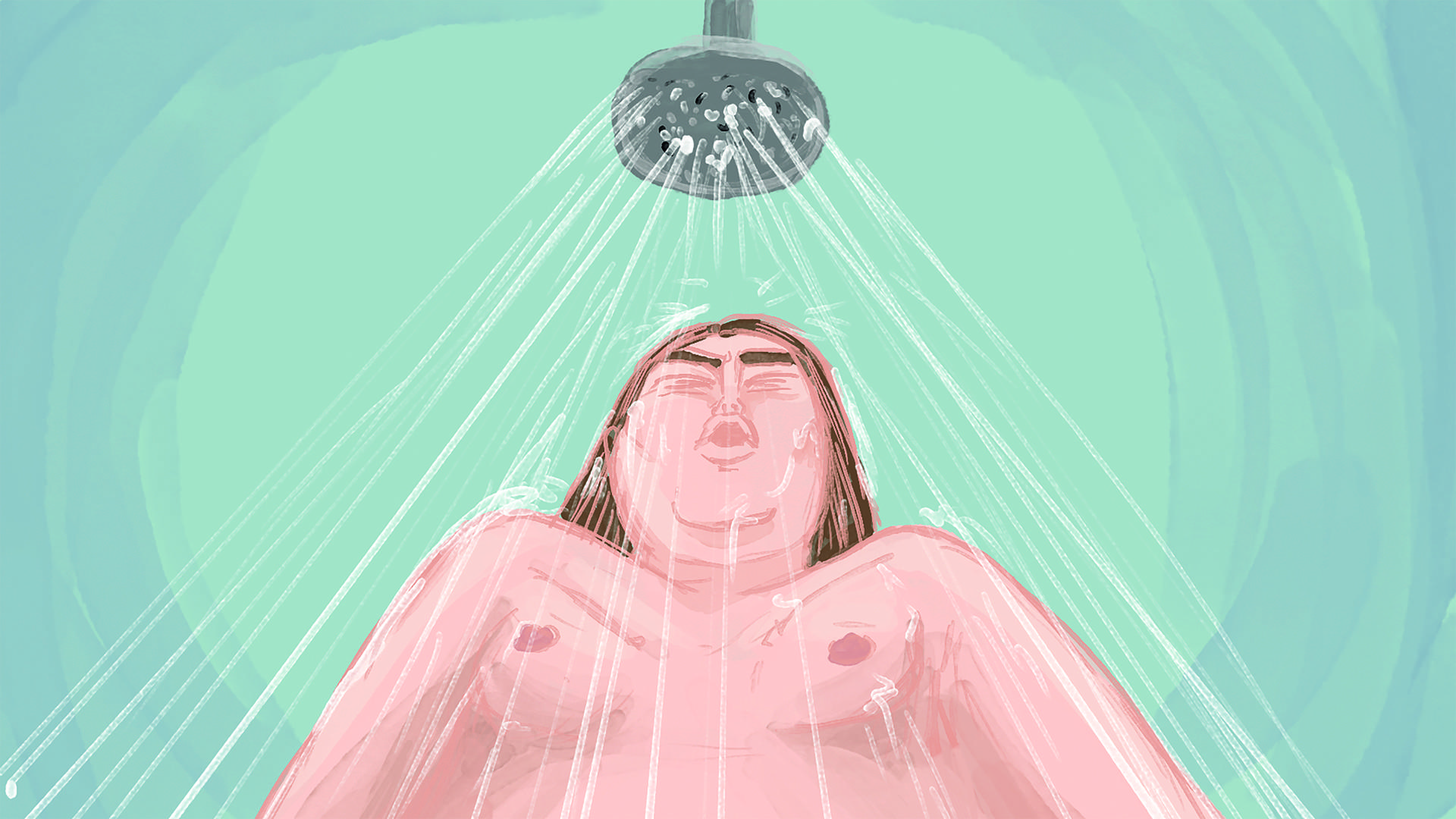 APPLAUS, APPLAUS.
Sarah Braid, 2020, Austria, 1 min

This film hits a nerve. Sharing glimpses of the everyday life of a medical worker, it points out the hypocrisy and contradictory narratives concerning the situation of people in system-preserving jobs in times of crisis, applause will neither feed them nor reduce their exhaustion.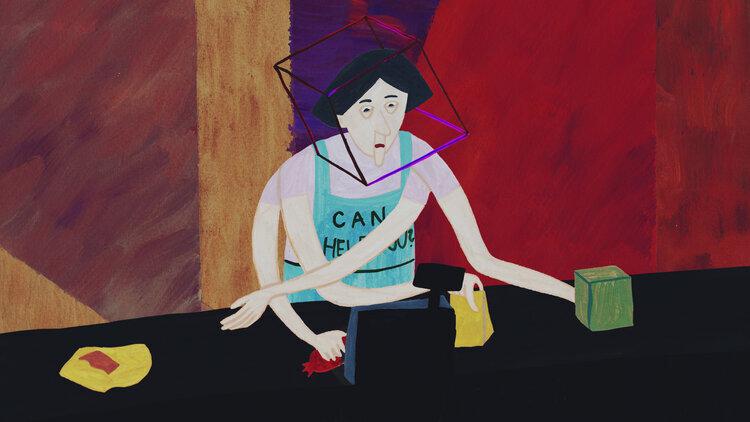 SOCIÁLNÍ KRYCHLE | THE SOCIAL CUBE
Alzbeta Suchanova, 2019, Czechia, 4 min

An animated essay on society living in a global capitalist system based on exponential growth, causing an exponential increase of inequalities. The film explores everyday challenges that often go unnoticed as they are being individualized and encourages to reflect on priorities and future perspectives.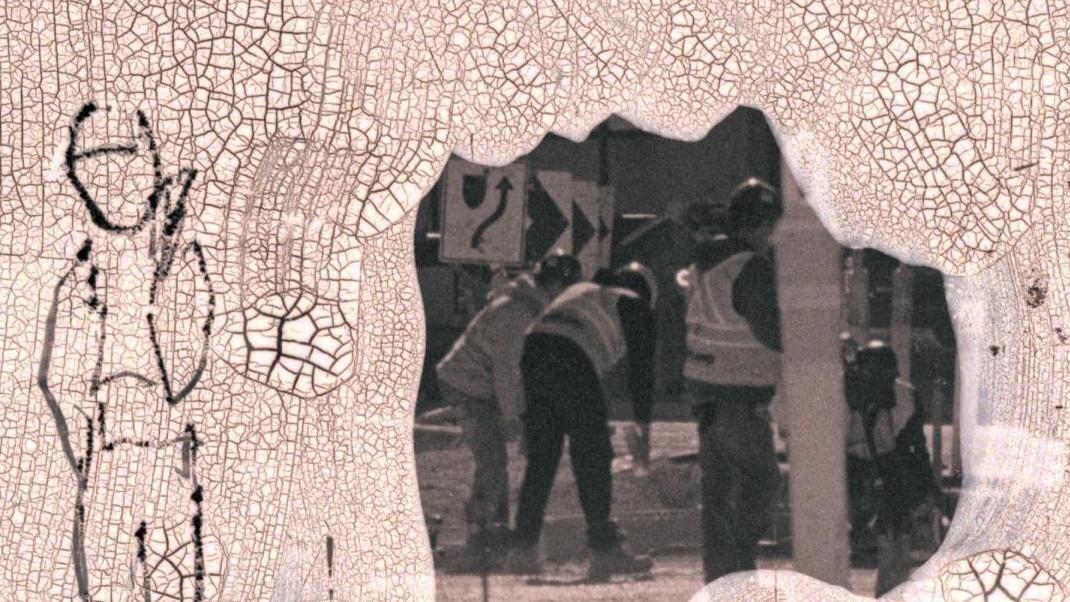 LE LONG CRI DU TRAIN QUI PASSE SE GLISSE AU CŒUR DES SPECTRES ET TOUT EXPLOSE EN SILENCE | THE LONG WAIL OF A PASSING TRAIN SLIPS INTO THE HEART OF THE GHOSTS AND EVERYTHING EXPLODES INTO SILENCE
Anne-marie Bouchard, 2020, Canada, 7 min

An experimental animated film built around a single sound recording that evokes travel, the need to communicate, solitude, fragility, the desire for freedom, the arrival of fall, and our ephemeral existence. Passing through an urban sphere of commuting, passers-by, labour and construction moving towards silence.
supported by 
REMARKABLE
77 min / Sun. 14.3., 19:00 / online available for 48 hours
Ambivalent love stories, animated poems, outstanding visual expressions of movement and mo- tion. Extraordinary beings and extravagant characters. Urgent struggles and narratives from out of space. Glimpses of togetherness in times of great physical distance. How do we move between haunting ghosts, building homes and striving for connection? A collection of works that are all re- markable in their own way.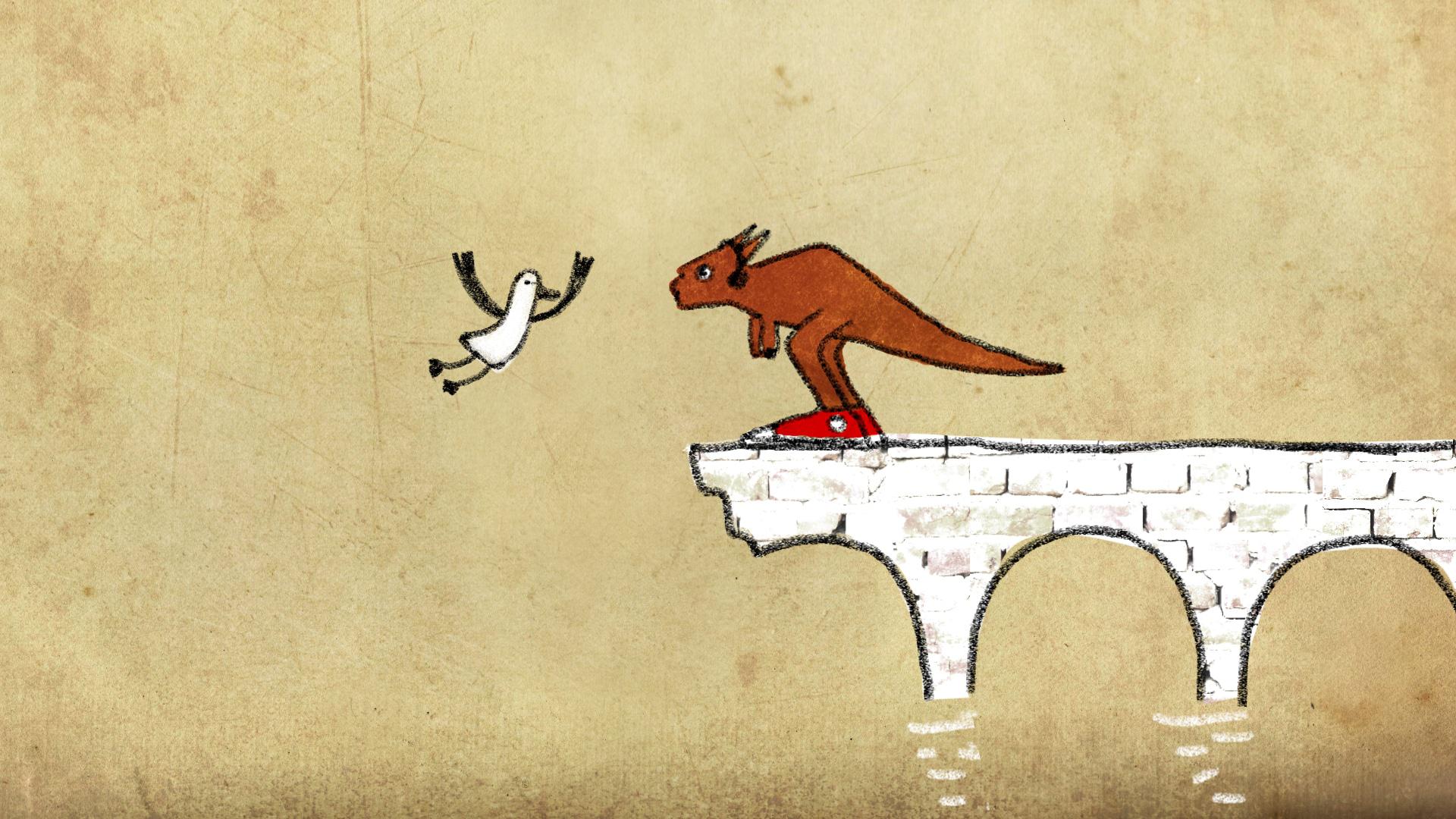 UTOCHKA Y KENGURU | THE DUCK AND THE KANGAROO
Liza Skvortsova, 2020, Russia, 7 min

Tender movements. A love story full of ambivalence. Chasing and being chased. Attraction and alleged incompatibilities. How can we move together despite our different styles and paces?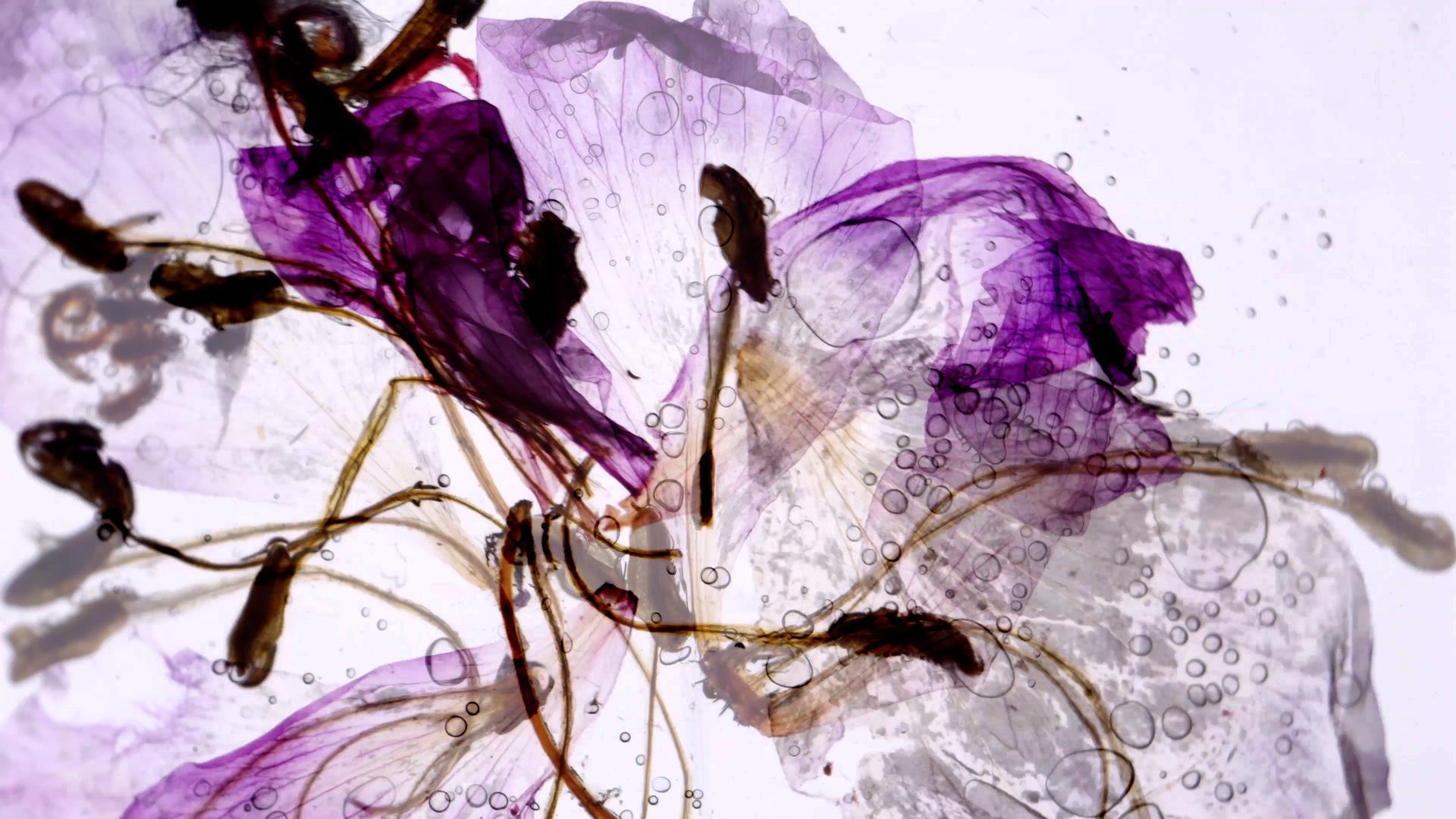 FLOW
Kayla Parker, 2020, United Kingdom, 1 min

A film poem created with wild flowers growing along the shore of the Laira estuary, the tidal mouth of the River Plym, on the southwest coast of Britain. Petals and leaves stream past as a haunting soundscape ebbs and flows.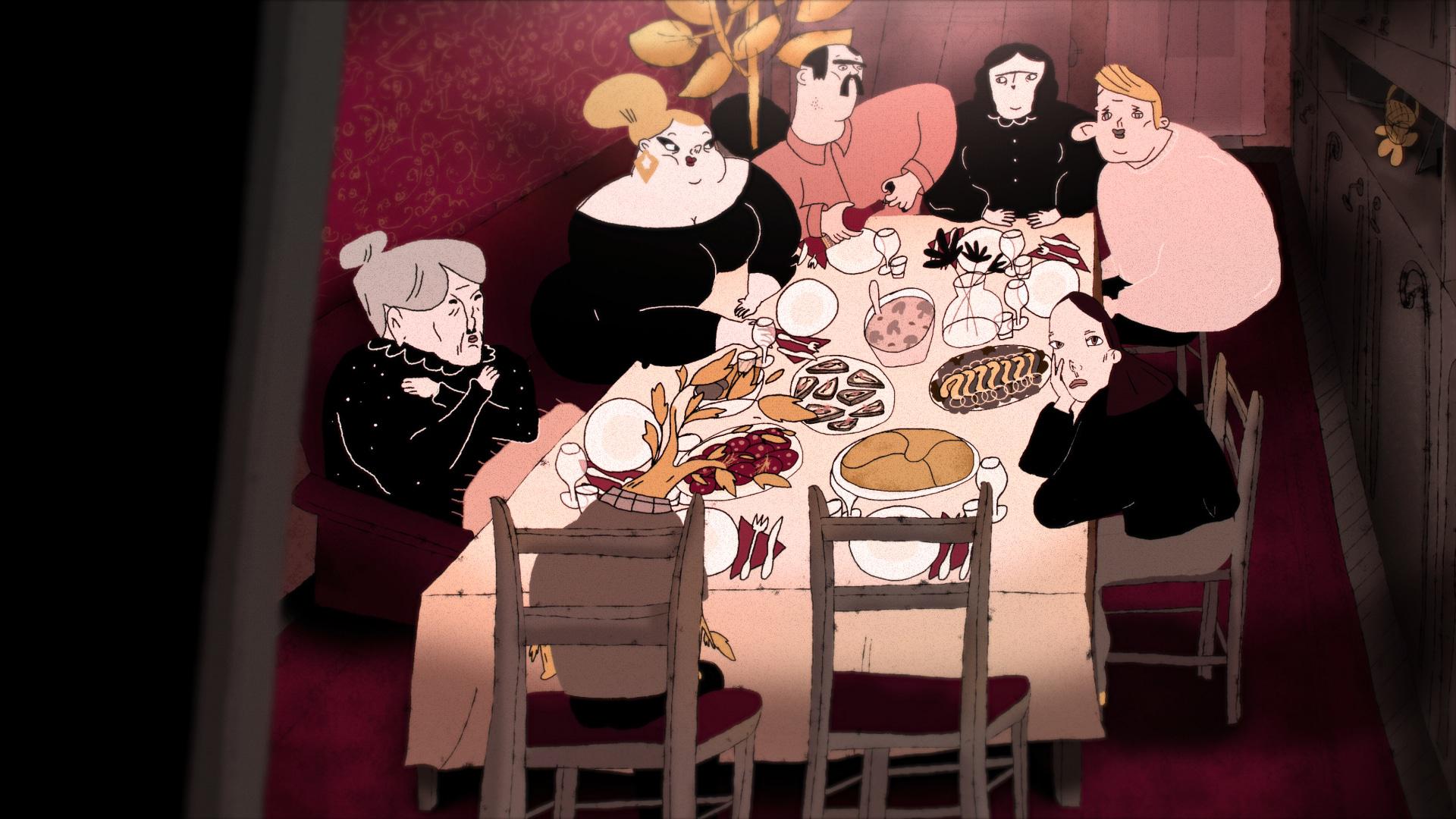 INVIZIBILII | INVISIBLES
4inaroom, 2019, Romania, 10 min

At home in her apartment, a young woman finds herself caught up in thoughts and memories. Layered experiences of past and present distort the tender balance of her life, as the space surrounding her reveals its mysteries and unsolved riddles. When do you feel at home with yourself?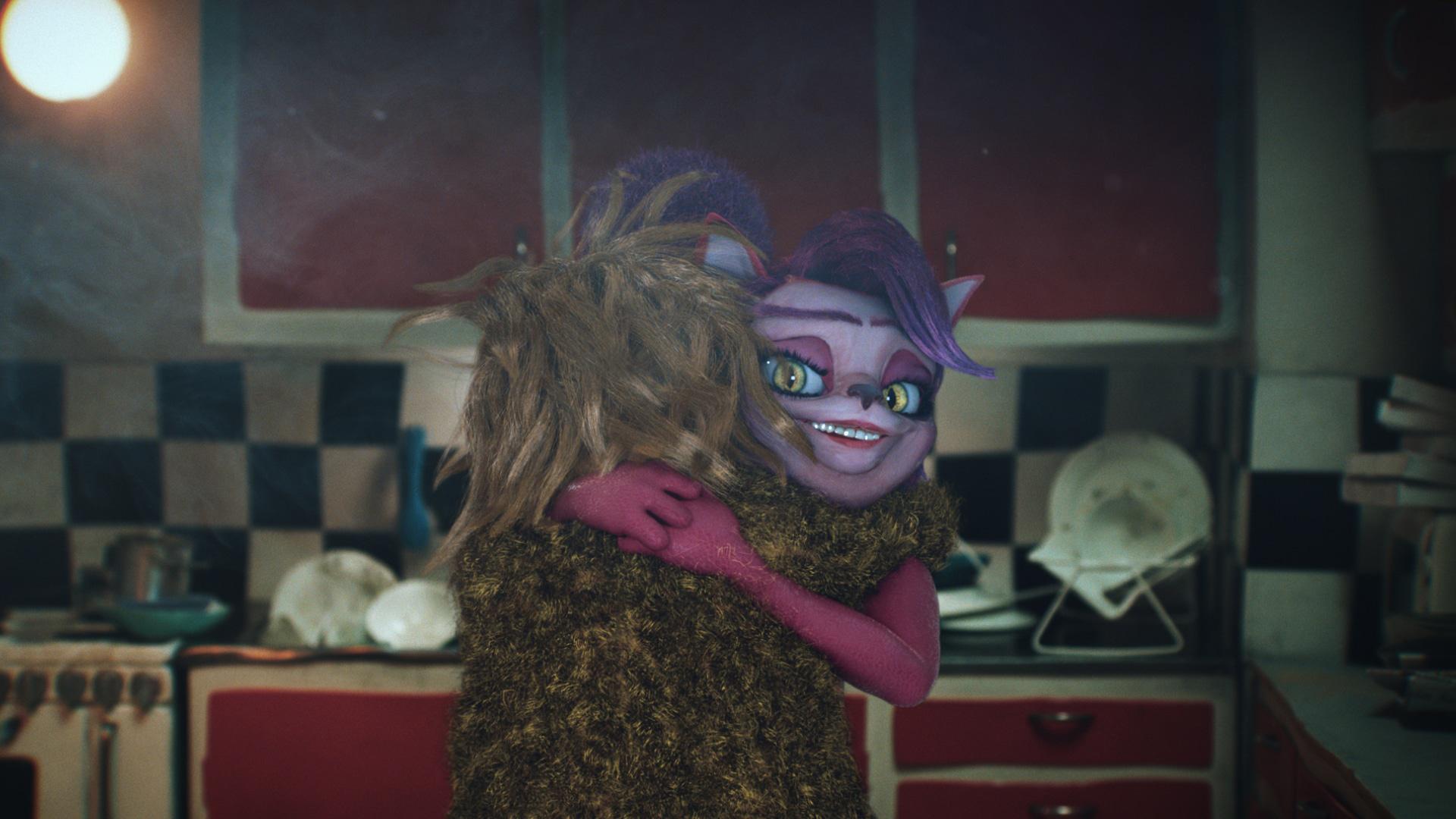 GLADER GÖK OCH MÄSTER KATT | MELLOW YELLOW AND PRETTY PINK
Frida Hammar, Sam Addo, 2020, Sweden, 5 min

Mellow Yellow and Pretty Pink are in a kitchen drinking wine. The drinking advances to a party, and the party leads to a fight. A little panda is a silent witness to it all.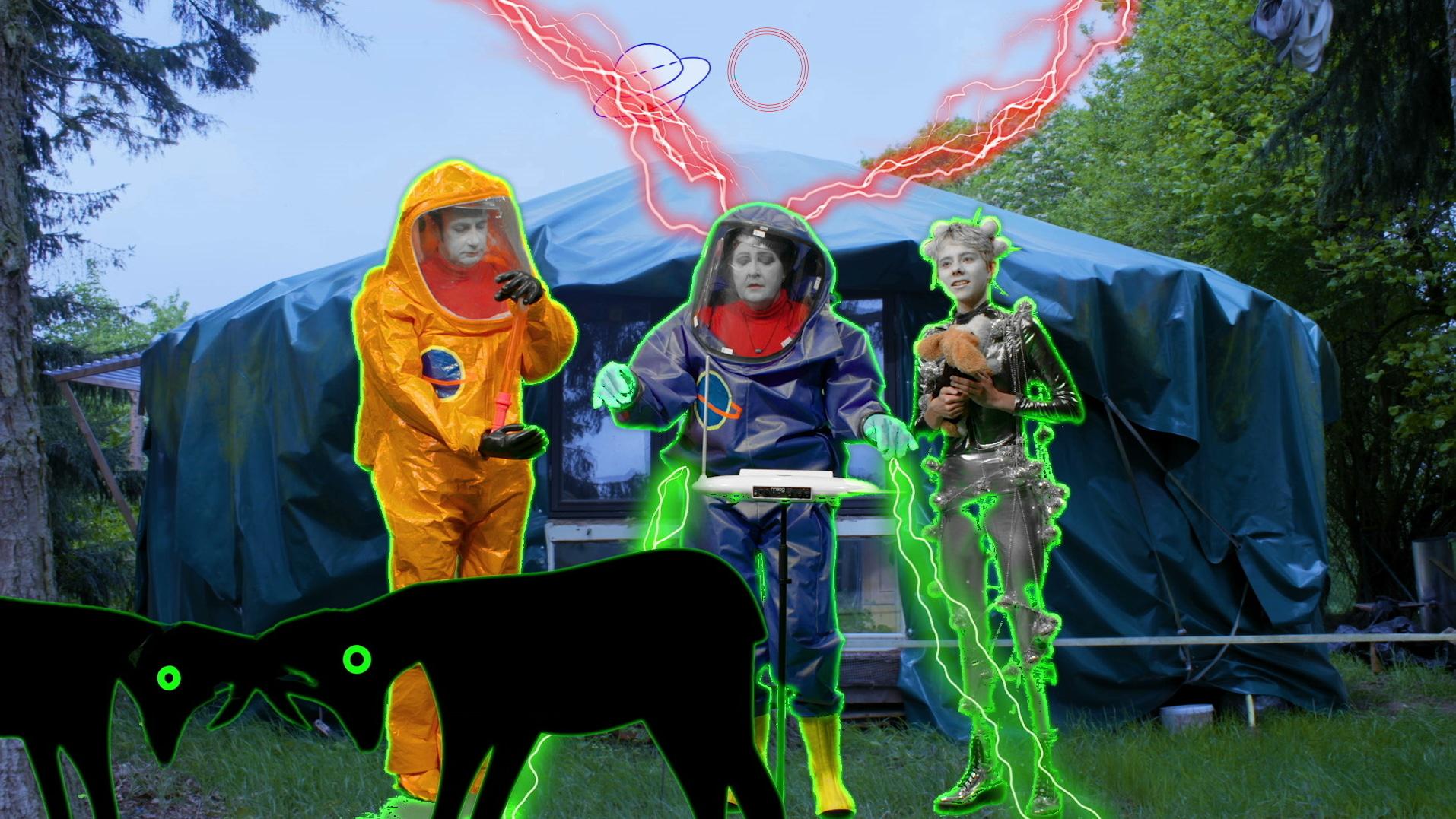 HASS-SATELLIT
Mariola Brillowska, 2019, Germany, 3 min

People in space suits, trippy explorations and research stations in space. A music video for Stereo Total's 'Hass-Satellit' (Hate Satellite). The celestial subject tells us about lonely orbits in outer space, collisions with space debris, the attraction and repulsion of other planets, and sending the same message over and over again.
*Françoise Cactus, the main protagonist died recently. An obituary by Mariola Brillowska
"(…)Wir beschlossen doch noch letztes Jahr Bürgermeisterinnen zu werden. Du von deinem französischen Kaff, ich von meinem polnischen. Die bescheuerte digitale Tafel am Bahnhof sollte weg. Alle Bürgerinnen und Bürger sollten Kunst machen. Du meintest das ernst und es klang wie ein Joke. Mein Frankreich, mein Cactus, meine Bürgermeisterin der Herzen. Du bist viel zu früh gegangen. Ausgewandert. Heimat verlassen. Wieder mal. Wie in deiner Jugend. Diesmal in ein ganz unbekanntes Kaff. Mit deinem singenden Dichten, deinem bohemiennen Leben, deinem von Natur gegebenen Humor vom Feinsten"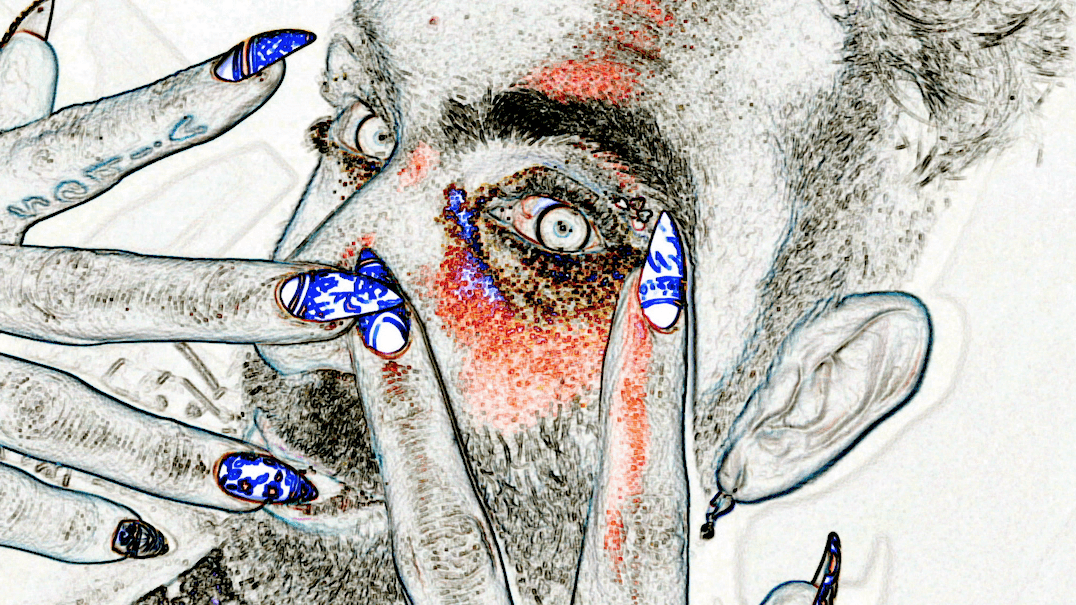 SINA AL-QAMAR, ARTISTE QUEER | SINA AL-QAMAR, QUEER ARTIST
Madi Piller, 2020, Canada, 6 min

Fragments exchanged over the course of eight weeks in confinement. Clips, imagery and bodies. Glimpses and coded reflections on isolation, identities, crisis, introspection and performance. A dense and visually intense experimental portrait of the artist Sina al Qamar. 
Developed for the Parenthèse project commissioned by ONF Canada.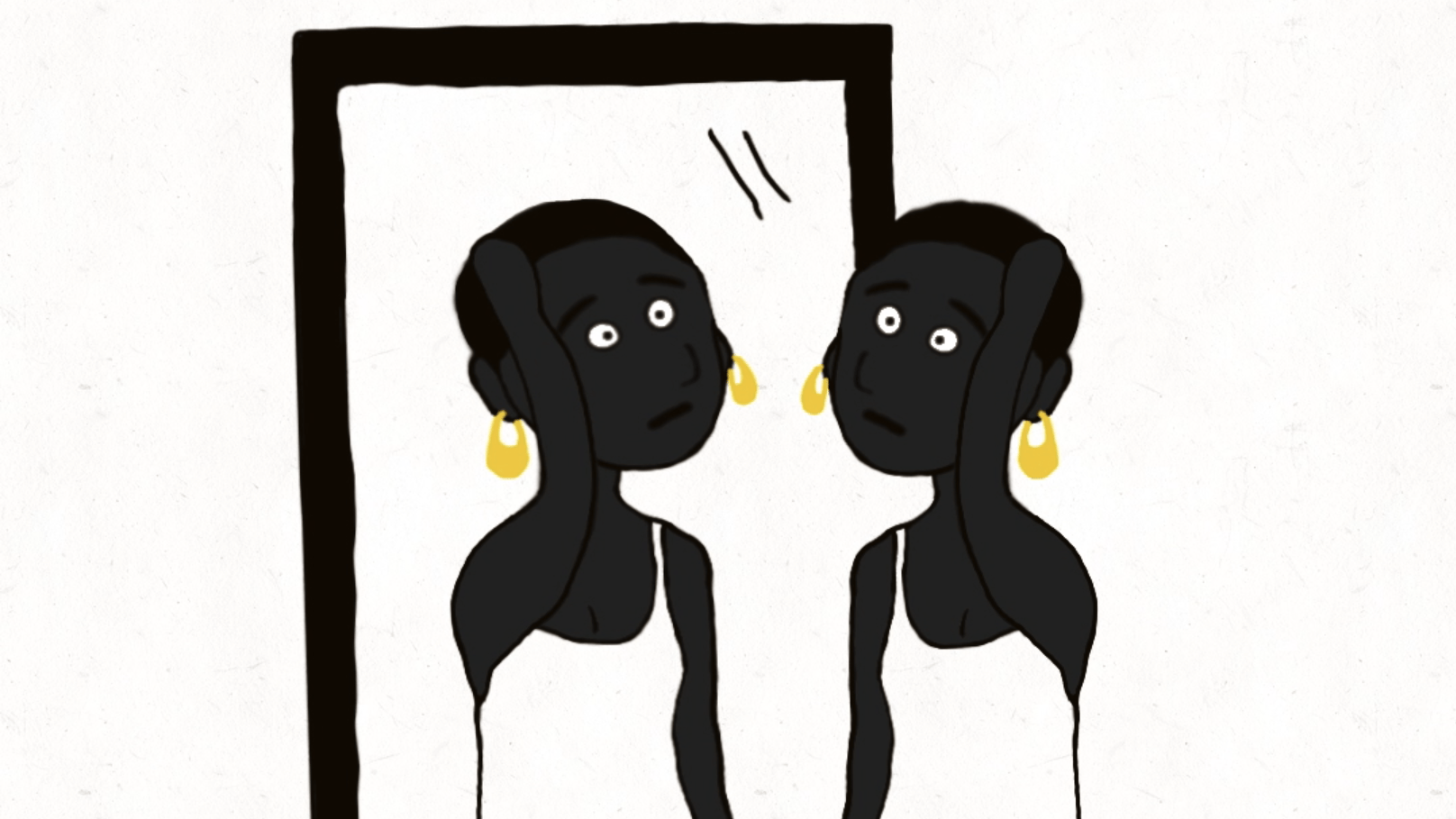 SCALP DEEP
Naseeba Bagalaaliwo, 2020, Uganda, 6 min

Hair and constructions of identity are often deeply intertwined. "Scalp Deep" captures the struggles of a young woman as she navigates the reactions and expectations of others after she decides to commit to a new look.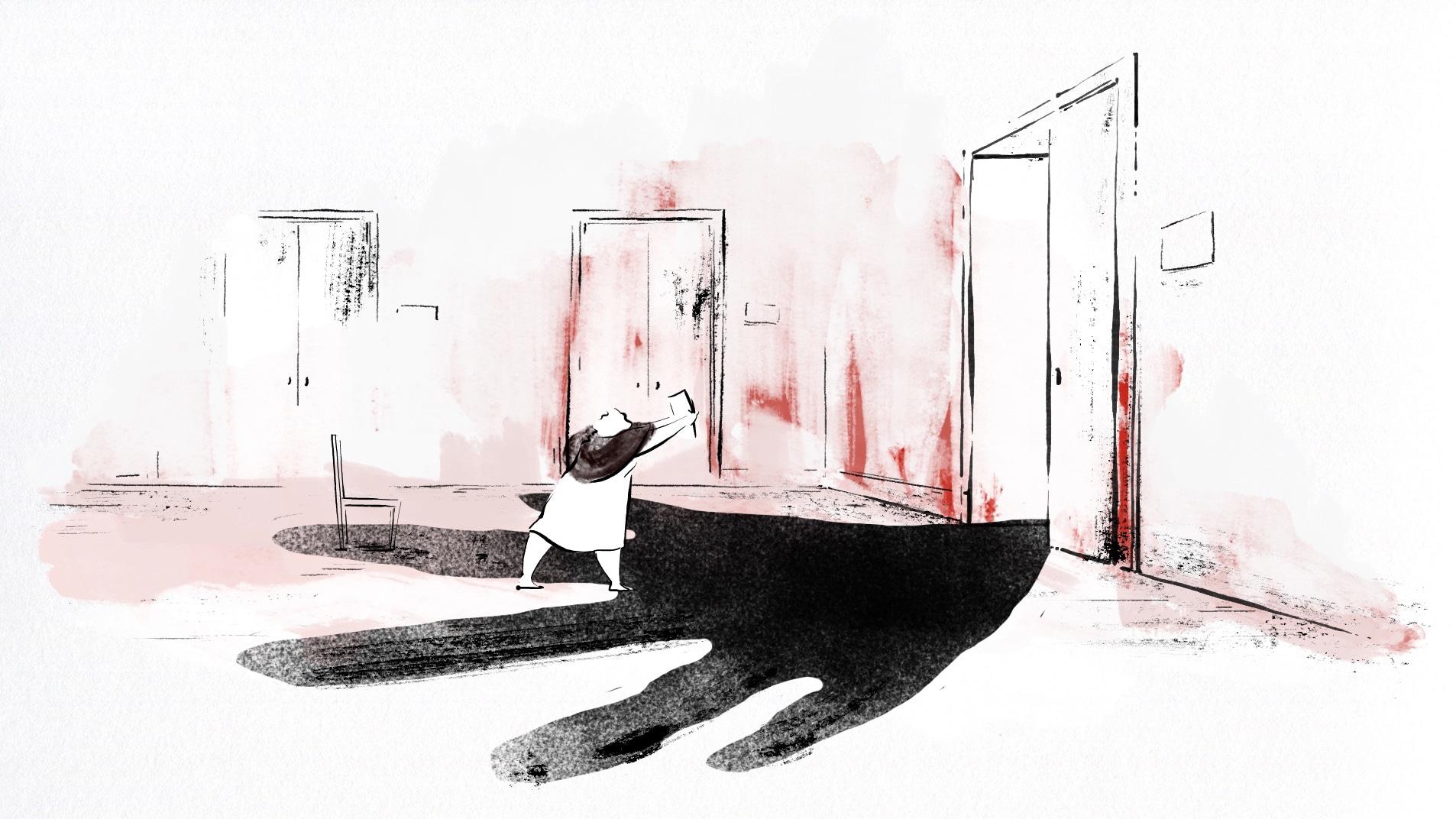 THE NEEDLE
Ceylan Beyoglu, 2020, Germany, 9 min

The story of a mother searching for her missing son, based on true events. The 'Saturday Mothers' have been demanding justice for their disappeared loved ones and answers regarding the fate of victims of forced disappearances in Turkey since 1995.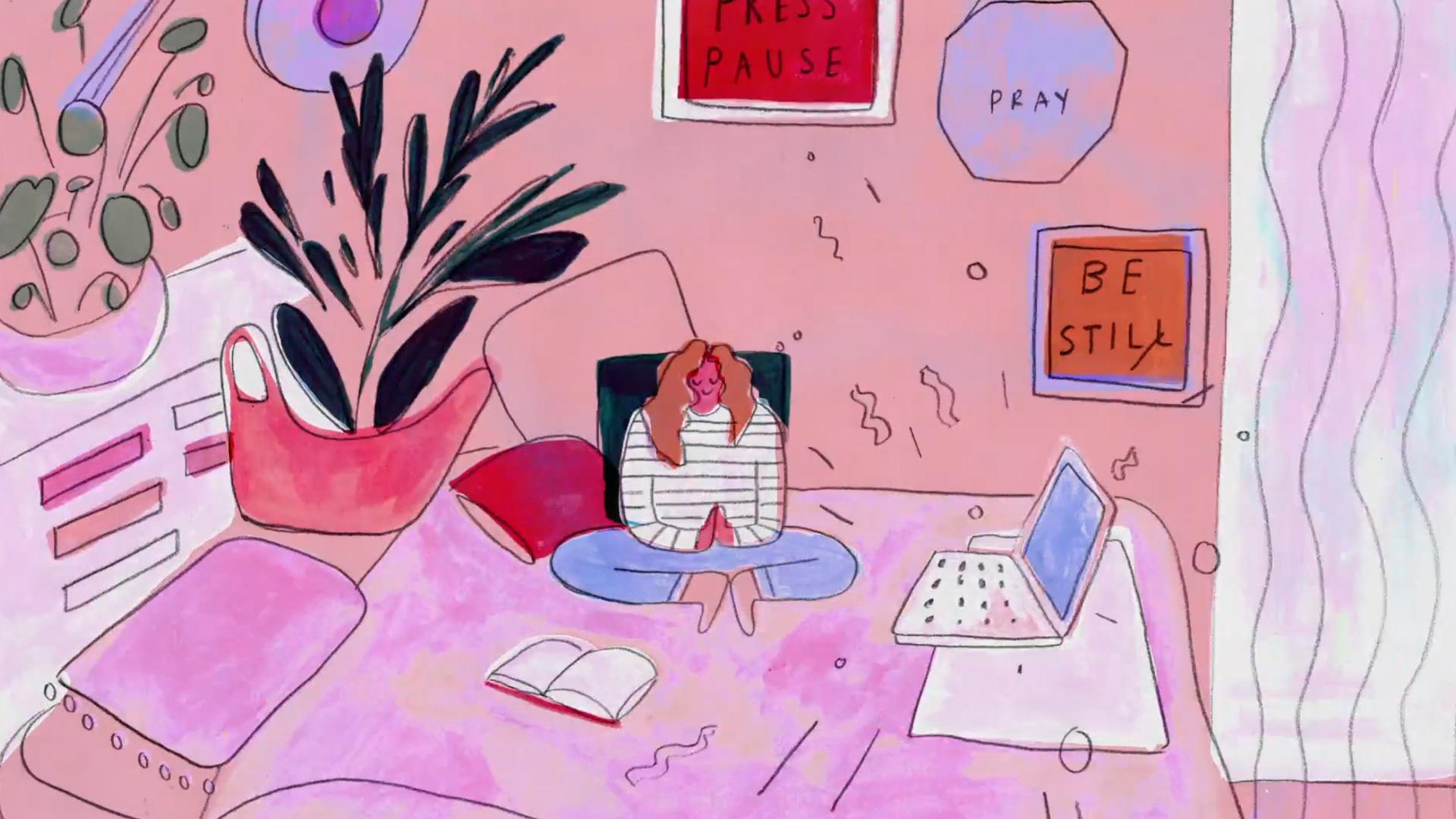 FLATTEN THE CURVE
Kathrin Steinbacher, Emily Downe, 2020, Austria, 6 min

A collection of animated moments of experiencing, seeing or thinking something positive amidst the strange times of confinement during the global crisis caused by the outbreak of the Covid-19 pandemic. Following a call, more than ninety animators worldwide contributed to this multifaceted collage, sharing glimpses of their realities. This is the first film out of a series of three, assembled and initiated by Kathrin Steinbacher and Emily Downe.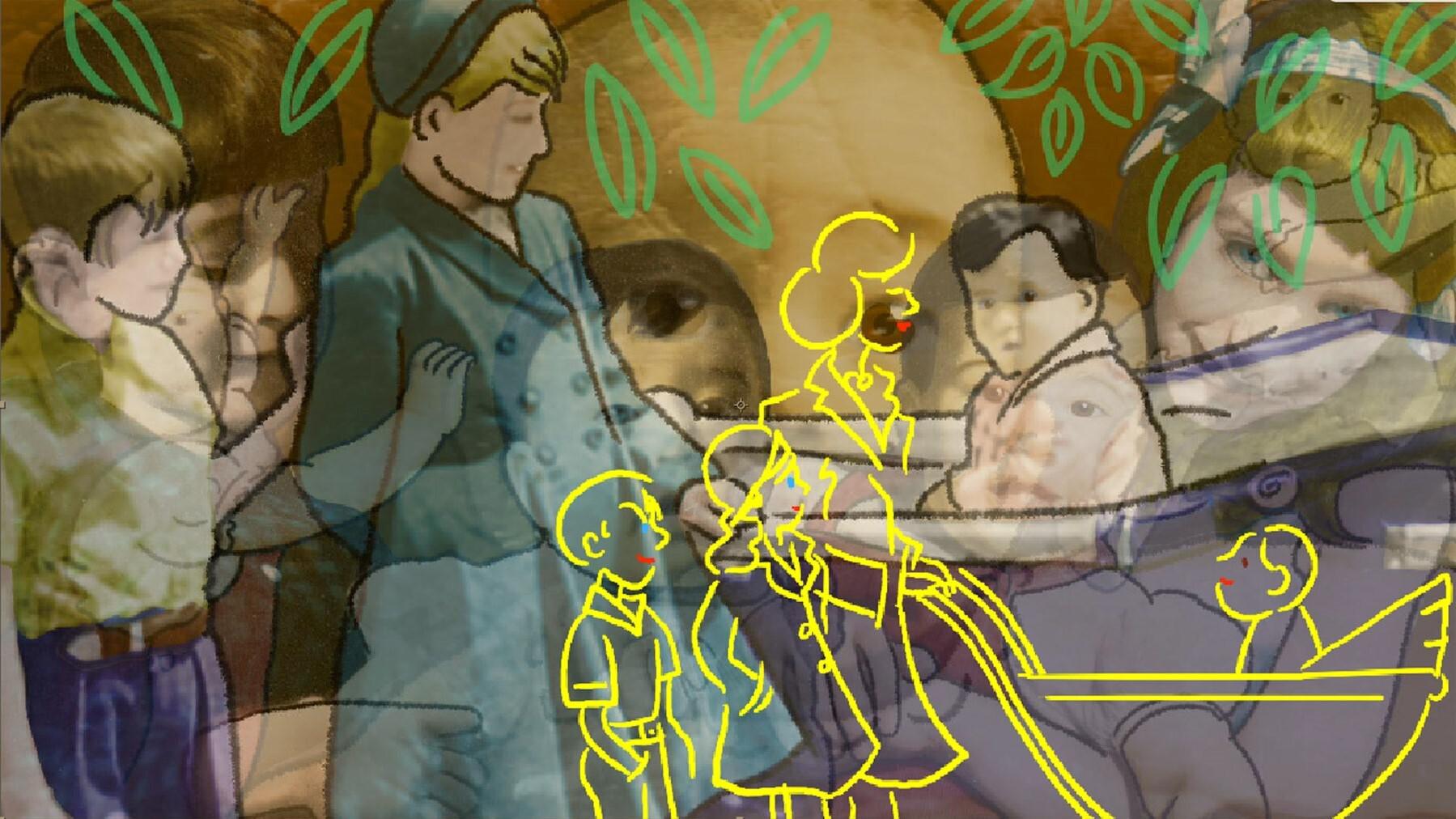 I, CANDY
Candy Kugel, 2018, USA, 21 min

Candy Kugel deconstructs a drawing she did when she was six years old to explore her life, touching on family history, current events and societal norms of the time. In the process she confronts anti-Semitism, channels political activism, and navigates life choices through luck and determination (and a bit of voodoo). Although the events described occurred in the past, the themes remain eerily current in today's climate.